Windows 10: A New Chapter
So Microsoft had loads of stuff to flaunt at today's event and here goes the announcements in a quick wrap-up.

Windows 10 is free upgrade, – yes you read that right!
As we were expecting Windows 10 to be a lot cheaper than other Windows so far , mostly because of the low user base of Windows 8.1 due to it's low popularity level and a rough release, initially. So it was expected that Microsoft would try to make it up to the dissatisfied 8.1 users and will make an effort to get the 7 users to upgrade with special pricing but it turns out that they have decided to give it away for free. However though the details are not clear , it's most likely to be completely free if you upgrade within one year. ( Same happened with free 8.1 update as well , which was also for limited time ). So yeah , free Windows 10 more or less, yay!
This free upgrade is available to all devices running Windows 7 , Windows 8.1 & Windows Phone 8.1 as well.
Microsoft eyes to make Windows a service in near future as opposed to just an operating system.
Loads of new features and improvements announced for Windows 10 – Action Center for PC, synced notifications across all the devices, overhauled settings menu, Cortana for PC ( We all have been waiting for this one eagerly ), more improvement on the UI (No they are not giving up on Metro , rather making it better ), Universal apps which would run across all devices, Project Spartan -Internet Explorer reincarnated ( For good, hopefully.. ) , Xbox app for PC – probably an overhauled GFWL with new features.
Let's talk about Cortana. Cortana was expected since MS hinted her arrival on PC (and other devices such as Xbox in time) during the last conference. In Windows 10 Cortana will be integrated almost everywhere, from browser , apps, outlook, to notifications, and won't be limited only to search. Cortana for Windows 10 seems much more "educated" and natural . She sounds less of a robot and more of an actual AI now as she was joking with Joe.
Microsoft seems to be unifying the platform for all devices with Windows 10. There's a lot in store for Windows Phone 10 , but now it includes much more seamless interaction with the PC Windows , for example notification syncing across devices which will allow the users to read and dismiss a notification from any device.

The UI for phone as well as PC have been improved and packed with new features. The background image for start screen on phone now sit behind the tiles making it more clear , the settings section is now more clean and organized , notification panel has been updated with some new stuffs like quick replying to messages , and also other app integration features like swiping between multiple apps added, dictation feature for messaging etc.
Microsoft is making continuous effort to make apps universal and preserving the experience across all of their devices and they are getting there.
This is a new browser for Windows 10. ( Guess Microsoft is tired of those IE jokes .. ) Spartan's important features shown here are the Reading Mode, Reading list syncing across all devices, Note syncing with OneDrive, Cortana integration. Although it's not clear yet whether this is the new Internet Explorer or a complete rebrand. Time will tell.
As per Joe Belfiore, "in about a month or two months." OneDrive will support music.
A new ( or is it the new GFWL ) Xbox app has been showed by MS for Windows 10. Nothing special just same as SmartGlass app with more polish. It can be used to chat with Xbox Live friends , share game clippings via the new Game DVR feature.
According to Phil Spencer, Head of Xbox , now Xbox One will be be able to stream games to Windows PC and tablets. Cool! That's not all , Windows 10 is also coming to Xbox One, yes.
An 84 inch Surface Hub , a new device was also showed . It is more of business oriented and no details on feature or pricing have been unveiled yet.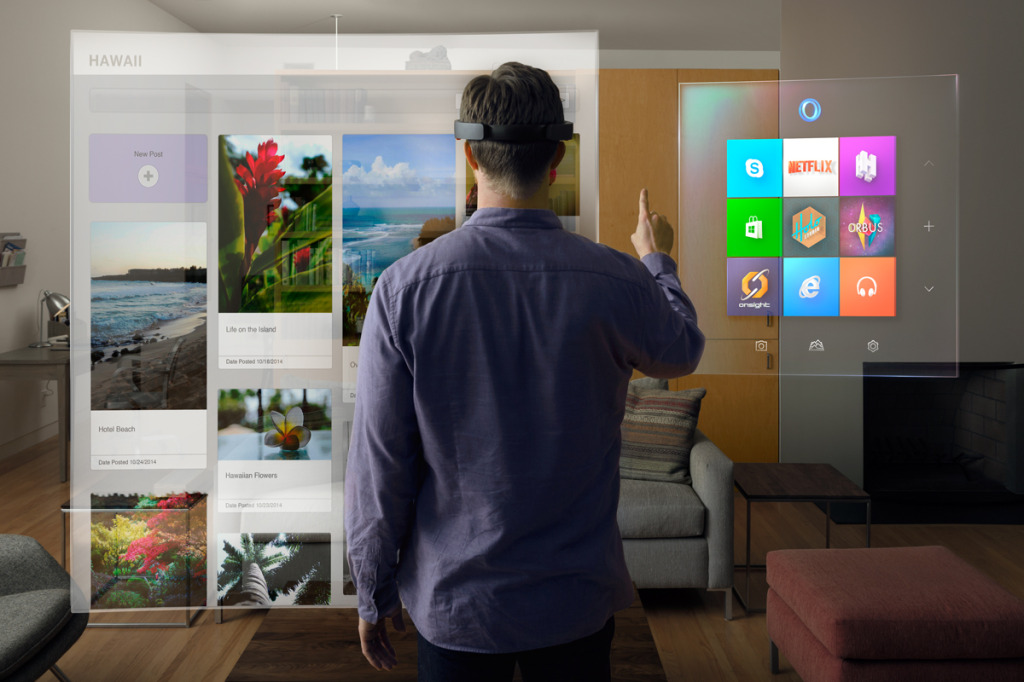 Microsoft HoloLens, "..dreaming beyond virtual worlds."
This is definitely going to shatter some glasses , or at least seems like it from the demo. Windows Holographic, MS's take on augmented reality. The HoloLens headset as Microsoft describes it , "the most advanced holographic computer the world has ever seen.". With it's own CPU , GPU and sensors on-board, including a holographic processor, Microsoft is eyeing to re-innovate the VR as we know it. HoloLens seems a bit different than what other companies are doing with VR but how successful it will be is still unknown. HoloLens in short doesn't need a PC or any device to work. It itself is the device. In short it looks like a mashup of VR, Kinect and Holographs without the need of a separate device. Strauss Zelnick, Take-Two Interactive CEO who was lucky enough to test it out describes the experience as "extraordinary".
https://www.youtube.com/watch?v=teoZk3QEc40
( Picture & Video courtesy – Microsoft )