In this age of social media and with the constant need of grabbing eyeballs, the internet is seeing a surge of video content. To keep up with the surge, there is a need to edit and optimize these kinds of videos to make if fit for consumptions (after all, no one would like a badly synced video with a lot of shaking, will they?). So, a lightweight yet moderately powerful video editing program is the need of the hour for the content creators.
The product/software we are checking out today is aimed at those content makers who take a lot of video raw footage from drones, action cameras, DSLR's, etc. and need a software with a relatively easy learning curve.
Enter VideoProc, a lightweight 4K video editor which is for the less technical inclined content creator.
Features
Cut: Using Cut, the user can shorten or trim any video
Merge: This option helps to merge multiple files taken from different sources and merges them into one file. There is also a unique "MKV Multi-Track" feature which allows you to combine different video/audio/subtitle tracks in one MKV file.
Crop: Pretty much explanatory, The Crop options lets you crop your videos so that you can remove distracting portions, zoom in and highlight the focal point and improve the image composition. You can also use the crop to define your aspect ratio for YouTube, Instagram, etc.
Subtitle: These days, subtitles are super important. Because videos are watched globally and in different languages. The subtitle options enable you to add different subtitles, soft or hardcode them into the file among other things.
Effects: The Effects option lets you add various effects to your videos like Grayscale, Mirror, Edge, Painting and Sharpen to your video tracks among other features. There are also features to fine-tune colours and other aspects
Other Features: VideoProc boasts a lot of feature such as video stabilization, fisheye fixing, noise removal, GIF maker, video enhancements, MKV, and M3U8 encoding, etc.
Hardware Accelerated Encoding: The crown jewel of the program, videoproc let us use the power of your GPU and CPU simultaneously in encoding or decoding large files like 4K videos. Just go to Setting > Options > Hardware Acceleration to analyze your hardware and enable it. While encoding or decoding a video just choose a codec/format with "hardware Acceleration" support and run the job. With hardware-acceleration, your everyday 4K editing will be done in a jiffy.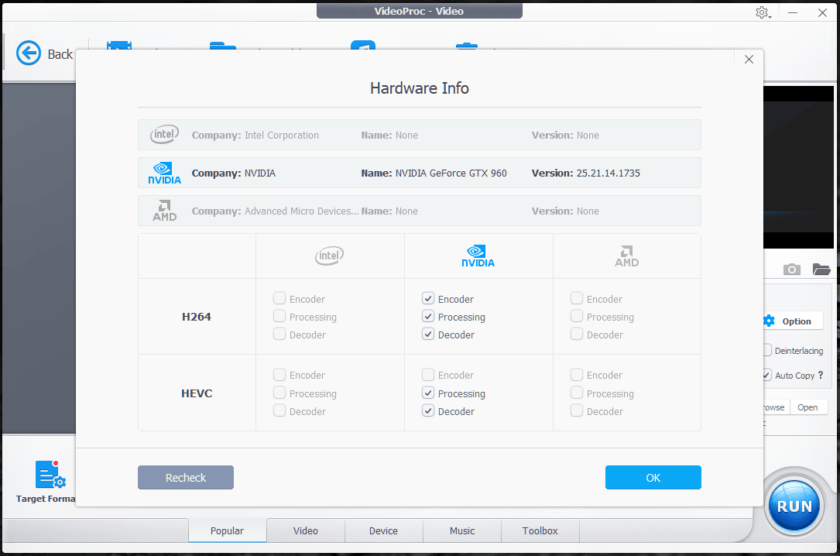 Watch the YouTube video to see how VideoProc full GPU accelerated 4K video processing in Windows and Mac