Hello everyone and welcome to another episode of Techarx tech report. Today we will be testing out the Thermaltake Riing Fan, a beautiful creation from Thermaltake.
As with all Tech Reports we will check out the fan a bit and then dive into some performance numbers.
So first let's take a look at the features.
Features and Specifications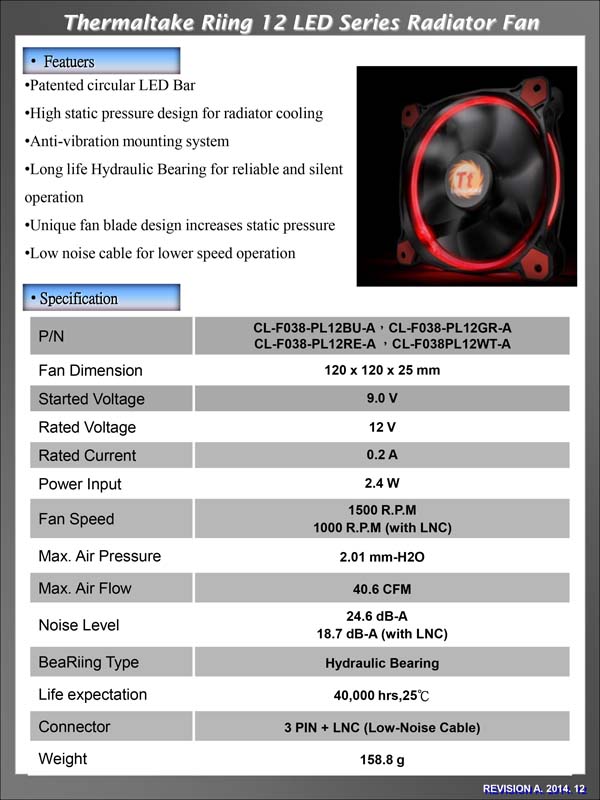 Thermaltake positions this fan as both a case fans and for radiators so it will be unfair to put it against fans which are purposefully positioned as either a case fan or a fan for radiators. So while interpreting the specification we decided to judge the fan as it is unless we have our hands on something similar from other manufacturers.
[youtube=https://www.youtube.com/watch?v=ISMucXUX5KU]
 Product Showcase
Now with the specification aside let's take a look at the fan itself.
To maximize Airflow Thermaltake uses a design called "Wind Blocker Frame". In their own words the Blade design directs the airflow towards the middle section of the blade creating a Compressions effect which prevents the air from escaping and losing the pressure.
Apart from the Wind Blocker frame the Fan boasts of other interesting features. Such as Hydraulic Bearing with Low-Noise Design
And last but certainly not the least : Anti-Vibration Mounting system which a very welcomed inclusion since it reduces noise by a great margin.
The Led strip design is very interesting; Instead of having four individual leds or the led being included in the fan hub, Thermaltake took an unusual way of integrating the led strip all around the fan chassis with the led being concentrated at one corner. This creates a diffused light which while being not too obtrusive does the job of illuminating pretty decently.
A closer look at the led strip
In this reviewer's humble opinion the fan looks very pretty at night. However I would like to have a design with adjustable lightning control and won't mind paying extra for it.
Coming to the package itself.
We have
The Riing fan
Mounting screws.
LNC Adaptor for reducing the fan speed if its needed.
A pin molex to 4 pin adaptor for connecting the fan directly to the power supply.
Coming to testing, we decided to test this product as it is since this fan is uniquely placed in the market and we didn't have any other fans that can be placed as a direct competitor to it in our inventory.
The test system consisted of
Intel Core i5 2500K at various speeds
Asus P8Z77-V Deluxe motherboard
A ghetto made LC system consisting of an 120MM Thick radiator and a pump form an AIO.
HAF-XB case.
All motherboard fan controlling feature was disabled along with Intel Speed step so that the processor always runs at the intended clock speed.
The Cpu was load tested with Intel Burn test and the temperature was measured with RealTemp temperature monitoring software and the ambient was around 31C/33C.
We used the standard mode for stress testing and ran the test for 20 loops.
Below is the results we got with LNC and without the LNC.
As u can see with a little bit of OC(by 2500K standards) the fan was able to hold itself with acceptable temperature in an hot and humid environment. With two fans in push pull and better ambient I expect the temps to be lower than this.
Conclusion
To be honest I was apprehensive with Riing fan when it came out in regard to its performance but my apprehension went away as soon as I see the performance numbers. The fan is pretty to look at with performance to match it the only thing it needs now is a killer pricing to round up the package.
As a consumer though, I would like a few things in addition and I hope Thermaltake is already working on it and I wouldn't mind paying a bit of extra.
Options to control the led.
RGB please !
A higher speed version. We really need an alternative to gentle tyhoons from Scythe.
Apart form that I don't find much to complain about.
All in all a pretty decent fan in itself with features worthy to be drooled over.
Thermaltake Riing 120MM fan gets a Silver rating from us, definitely recommended.