Phanteks Launches Glacier G6000 Water Block for ASUS RX 6800/6900 TUF and STRIX Cards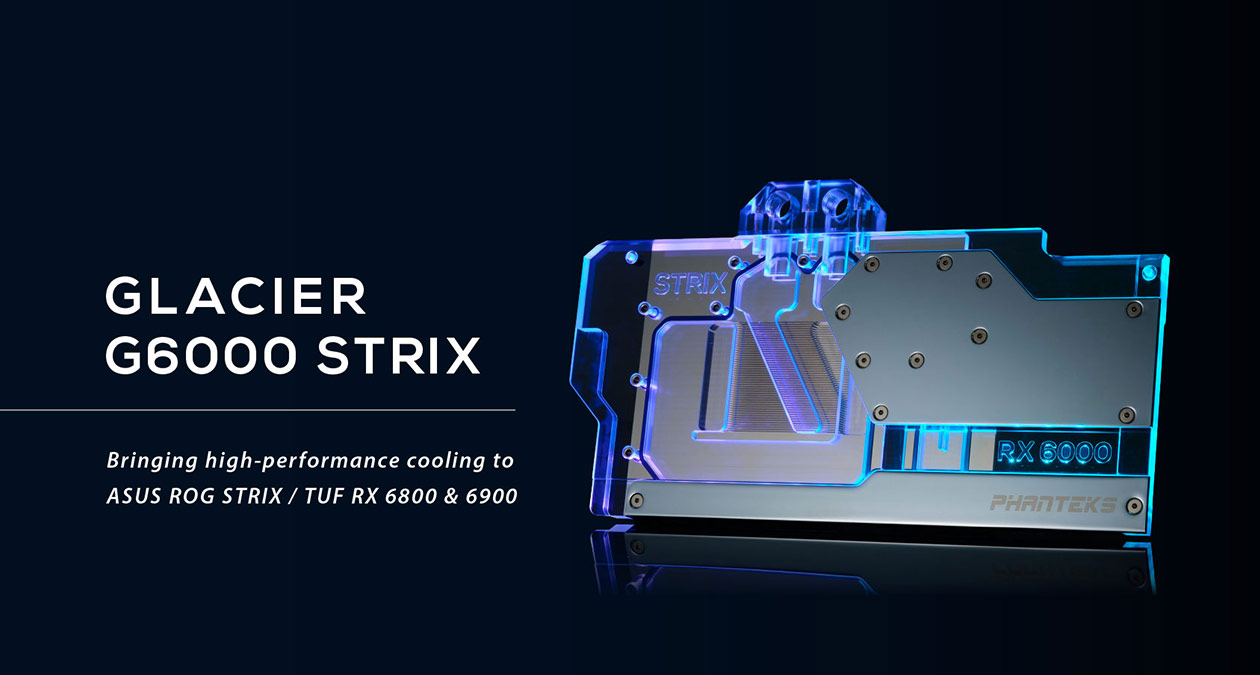 Phanteks' Glacier G6000 STRIX provides a high-performance water-cooling solution for the latest Asus ROG Strix & TUF RX 6800/6900 cards.
Press Release
Rotterdam, The Netherlands – April 22nd, 2021 – Phanteks today announced its high-performance Glacier G6000 STRIX blocks and backplates for the ASUS ROG STRIX & TUF RX 6800/6900 Series cards. The new Glacier G6000 STRIX water block is designed specifically for the ASUS ROG STRIX & TUF RX 6800/6900 graphic cards to get the best possible performance. The new G6000 STRIX backplate also provides cooling to the back of the PCB while creating a clean aesthetic look.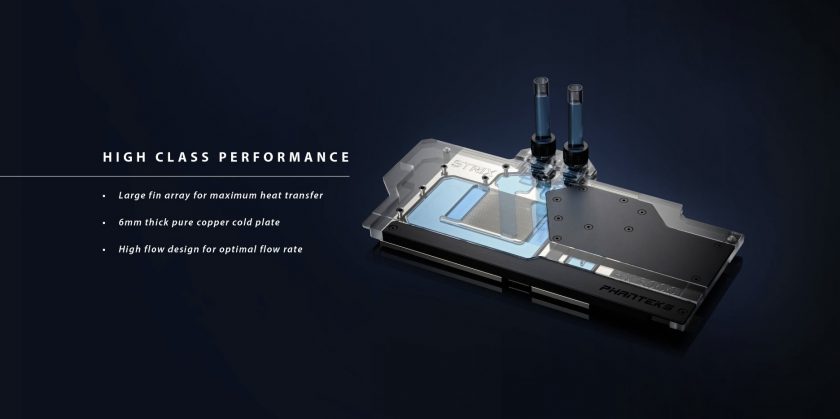 The Phanteks Glacier G6000 STRIX water block uses premium materials such as a nickel-plated copper base, clear Acrylic top, black or chrome aluminum cover plates, and industrial quality VITON o-rings to ensure the best reliability and longevity. The 6mm copper base and large fin area transfer heat with reduced flow resistance for outstanding cooling performance. All critical components such as the GPU chip, VRAM, VRM, and PWM controllers are directly cooled by the copper base and aluminum backplate. The water block comes with integrated Digital RGB lighting that beautifully complements your build and can sync with Phanteks' D-RGB accessories and compatible motherboards syncs such as Aura Sync, Polychrome Sync, Mystic Light Sync, etc.
And lastly, the CNC machined Glacier G6000 STRIX backplate covers the whole length of the graphic card with a minimalistic and elegant design that features thermal pads to help improve the cooling of the VRAM and VRM on the back of the PCB. The water block is available separately or bundled together with the backplate in a Black or Chrome color.
Compatibility
ASUS ROG-STRIX-LC-RX6900XT-O16G-GAMING
ASUS ROG-STRIX-LC-RX6800XT-O16G-GAMING
ASUS ROG-STRIX-RX6800-O16G-GAMING
ASUS TUF-RX6900XT-O16G-GAMING
ASUS TUF-RX6800XT-O16G-GAMING
ASUS TUF-RX6800-O16G-GAMING
Availability
Pricing
Phanteks Glacier G6000 STRIX Block

Black Anodized $179.99 / €179,90 / £159.99
Chrome $189.99 / €189,90 / £169.99

Phanteks Glacier G6000 STRIX Bundled

Black Anodized $199.99 / €199,90 / £179.99
Chrome $209.99 / €209,90 / £189.99