Nvidia RTX 3050 Ti specs have been leaked and it confirms the use of GA107 GPU, core clock is expected to be 1485 MHz and the memory clock 1500 MHz.
The RTX 3050 Ti laptop GPU to the GPU-Z validation database has been leaked, showing that RTX 3050 series use GA107 graphics processor. The GA107 will feature 2560 CUDA cores, which also are the specs of the RTX 3050 Ti Laptop GPU, judging from this leak.
The validation confirms that GA107 GPU has a PCI Device ID of 25A0. The sub vendor ID confirms it's a Clevo/Kapok system and since those laptops are not yet available on the market, we should assume that the GPU has been validated by Clevo engineers themselves.
The boost clock of RTX 3050 Ti is said to be 1485 MHz and the memory clock will be of 1500 MHz. Since the graphics card features a 128-bit bus and uses 4GB of VRAM in GDDR6 technology, the bandwidth has been automatically calculated at 192 GB/s. According to the validation, the GPU offers 32 ROPs. The specs validation also suffers from its typical error of not showing the correct TMU count. GPU-Z has been known to show incorrect values as this is an unreleased GPU. It is expected to show 80 TMUs.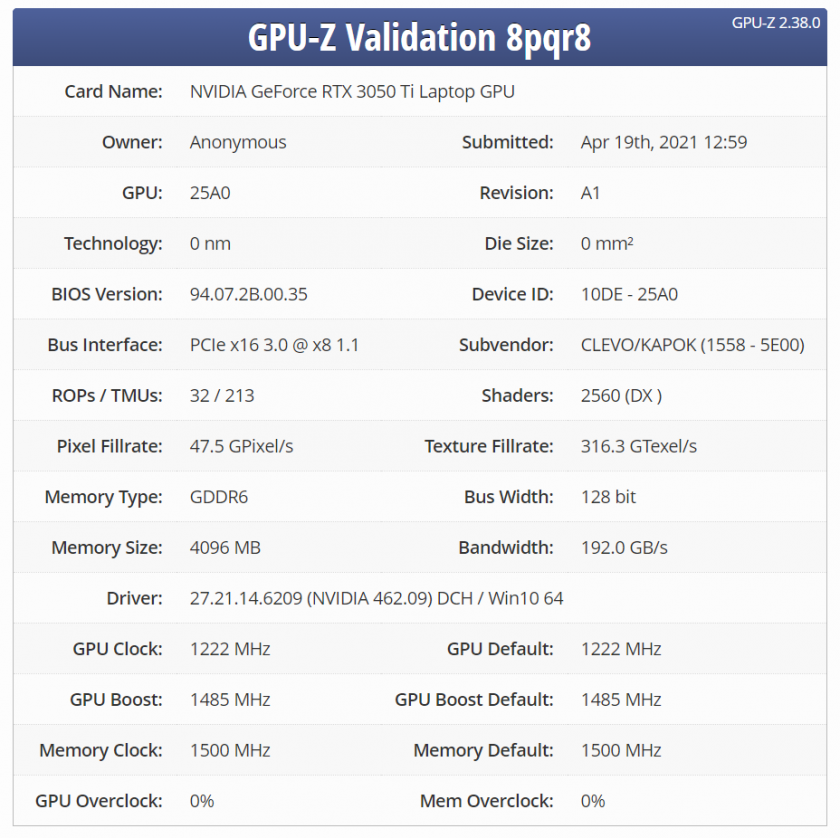 NVIDIA GeForce RTX 3050 series are expected to make a debut alongside Intel 11th Gen Core H-series (Tiger Lake-H), which has been scheduled to launch on 11'th of May. The RTX 3050 series will be the slowest Ampere gaming GPUs that should be enough for 1080p gaming. Since NVIDIA has never added RT cores and Tensor cores to its XX50 series, it's hard to have a proper expectation of the raytracing or DLSS performance.