MSI Announces 400 Series Motherboards for Intel 10th Generations Processors
MSI, the world-leading motherboard manufacturer, proudly announces Intel 400 series motherboards along with the brand new Intel 10th gen Core processors for socket 1200. Intel 10th Generation CPUs provide high specifications with up to 10 cores that improve both CPU and memory performance. MEG, MPG and MAG series are three different segments catered towards the most demanding enthusiasts or entry level gamers, satisfying all types of gamers.
To support the Intel 10th gen processors, MSI 400 series motherboards utilize the latest technology and the most advanced design. Enhanced cooling solution for both high-end and entry-level products ensures the best thermal condition, especially all Z490 motherboards featuring M.2 Shield Frozr. The entire MSI Z490 motherboard lineup improves conductivity for thermal and OC performance by adopting multi-layer PCB from 6 layers to 10 layers. Multi-layer PCB is beneficial for higher bandwidth and reliable circuit transmission.
 Featured lowest 2.5G Ethernet LAN and Wi-Fi 6 AX solution offer faster data transfer speeds for a responsive online experience. Furthermore, all 400 series motherboards support addressable RGB LED with new EZ LED Control to turn on/off the light easily. Not only with improved performance, but MSI 400 series gaming motherboards are also equipped with pre-installed I/O shielding for convenient installation and are optimized for integration with MSI cooling system.
Keeping up with the tradition, MSI has 4 main lineup for its entire Z490 lineup:
MEG for the Highest Tier
MPG for Mid Tier
MAG for Gaming
PRO for Business Users
MEG SERIES
Being the flagship segment, MEG series focuses on the latest technology, aggressive cooling system, and exclusive features to achieve maximum performance.
The MEG Series will have two SKU's on the release:
MPG SERIES
For gamers who put heavy emphasis on high performance, MPG series motherboards are always the top choice to show personal style with unique looks and touches. All MPG series motherboards offer onboard Mystic Light LED with 16.8 million colors and 29 effects, controlled easily within MSI's exclusive Dragon Center.
The MPG Series will have four SKU on launch
MAG SERIES
Military styled looks symbolize a rigid and tough image. MAG series is performance-based with essential specifications to fulfill gamers' needs. MAG Z490 TOMAHAWK features aluminum cover and MAG B460 TOMAHAWK has Extended Heatsink Design. Both enlarged heatsinks ensure better thermal effects. All M.2 slots are equipped with M.2 Shield Frozr to prevent throttling. Digital PWM with 12+1+1 Duet Rail Power System can guarantee stability and consistency for power delivery. MAG Z490 TOMAHAWK is equipped with Dual LAN, including 2.5G LAN and Gigabit LAN with lower CPU overhead and long-term network usage. For B460 chipsets, MSI also has a complete MAG series motherboard lineup including TOMAHAWK, MORTAR, and BAZOOKA motherboards with all equipping 12+1+1 Duet Rail Power System for more stability to meet entry-level gamers.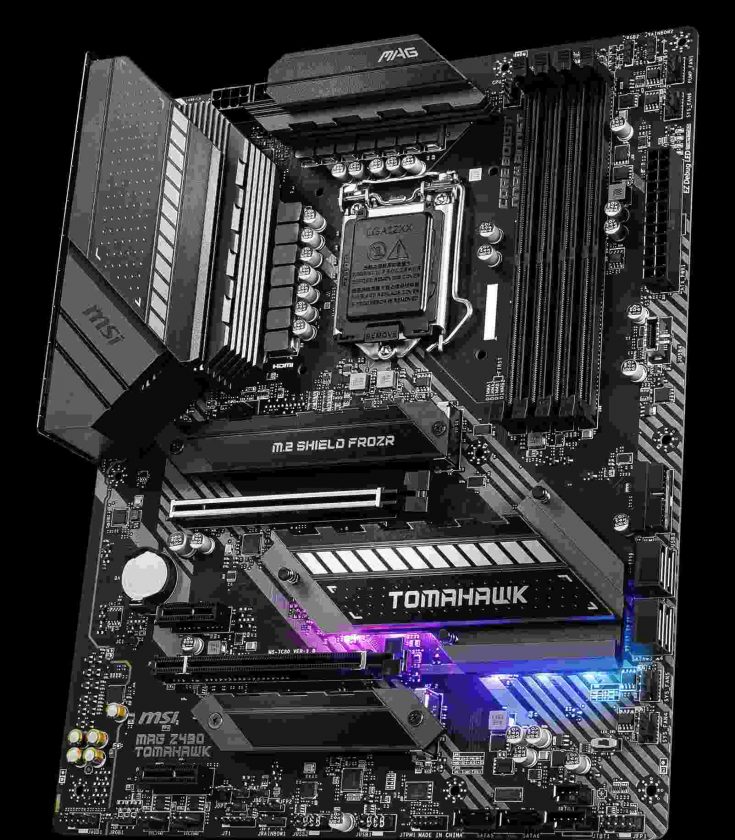 The MAG Series will have four sku's on launch:
MAG B460 TOMAHAWK
MAG B460M MORTAR WIFI
MAG B460M MORTAR
PRO-SERIES
PRO series helps users work smarter. Z490-A PRO features stable functionality and high-quality assembly for better professional workflows. Extended Heatsink Design, M.2 Shield Frozr and Digital PWM with 12 Duet Rail Power System lead to reliable processing. The network solution is also upgraded to 2.5G LAN to offer faster networking experiences.
The Pro Series also will have four SKU's on launch:
B460M PRO-VDH WIFI
B460M-A PRO
B460M PRO
Pricing and availability information is not out yet. We will update as soon as we get them from official channels.
Till then stay tuned to TechARX !