Kingston Fury Renegade 4600MHz DDR4 Hands-On Review: A little too fast for most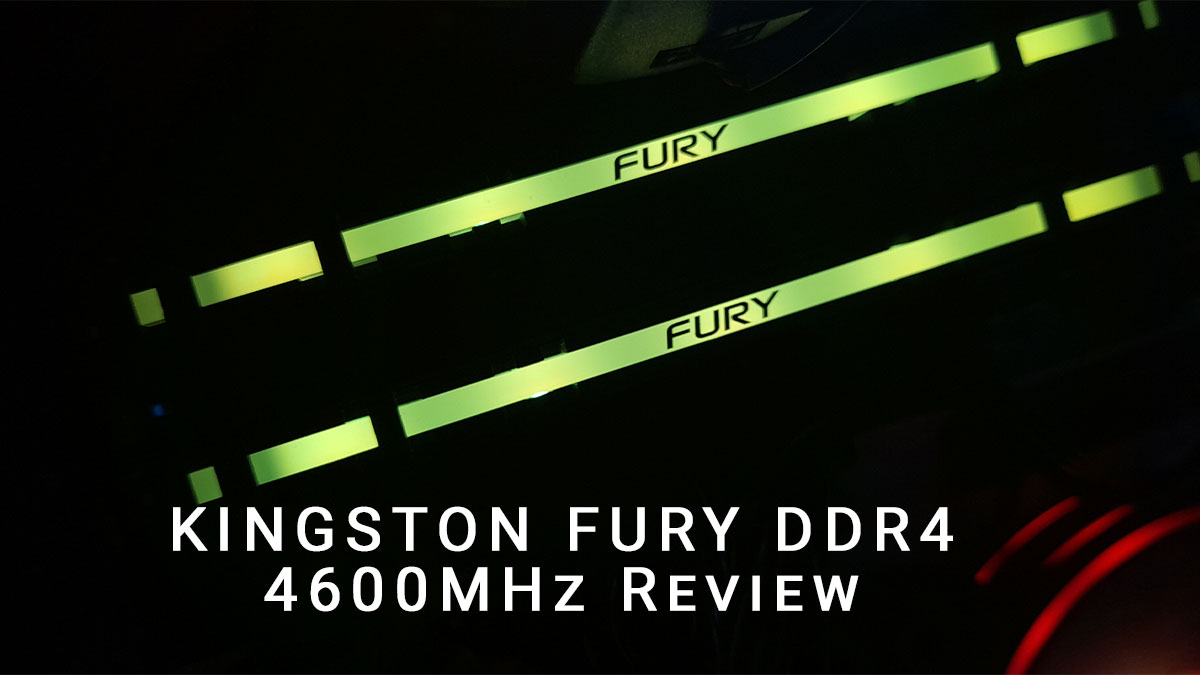 When Kingston announced the sale of the "HyperX" brand to Lenovo, many were curious as to whether Kingston will leave the gaming niche since HyperX acted both as high performance and gaming division for them. However, Kingston had their own plans.
The Kingston FURY line will retain all NAND and DRAM products from the HyperX brand and will rename a few of them to relaunch.
Enter the Kingston "Fury" lineup. Today we will be checking out the flagship product from them: a 16GB kit running at 4600MHz!
For this review, we'll be taking a quick look at the FURY Renegade RGB DDR4-4600 CL19 high-performance memory kit courtesy of Kingston India and along with that will run some extended testing over the course of the next few weeks and add the finding in the future.
Specification
Capacities
Singles: 8GB, 16GB, 32GB
Kit of 2: 16GB, 32GB, 64GB
Kit of 4: 32GB, 64GB, 128GB
Kit of 8: 256GB
Frequencies
3000MHz, 3200MHz, 3600MHz, 4000MHz, 4266MHz, 4600MHz
Latencies
CL15, CL16, CL18, CL19
Voltage
1.35V, 1.4V, 1.5V
Operating Temperature
0°C to 70°C
Dimensions
133.35mm x 42.2mm x 8mm
Stunning RGB style
Patented Kingston FURY Infrared Sync technology
Fierce aluminum heat spreader complements the smooth RGB effects
High speeds, low latency DDR4 performance
Intel XMP Certified profiles optimized for Intel's latest chipsets
Ready for AMD Ryzen
Our regular readers would remember the HyperX Fury Lineup of RGB rams. The Fury is almost the same with some tweaking design-wise and performance-wise Kingston told us to expect an improvement. The sticks look the same as the erstwhile FURY from HyperX and we will check if we have some kits to put a pictorial comparison later on.
Coming to the sticks themselves, we see Kingston has chosen to keep almost the same design of the erstwhile HyperX Fury and added its own flair to it along with the Logo. We have the same ornate heatsinks now with the FURY logo (in all caps) and the lightbars show the FURY nomenclature. Overall an aggressive-looking kit but not as beautiful as the Antec Katana Series. And for the RGB enthusiasts among us, the RGB is easily controllable by any motherboard software.
Going a bit deeper, a quick scan by Thaiphoon Burner shows that the FURY RENEGADE DDR4 comes equipped with Hynix H5AN8G8NDJR-UHC IC's or Hynix DJR chips. It also comes with two XMP profiles, DDR-4000 CL19-23-23 and DDR4-4600 CL19-26-26. The inclusion of TWO XMP profiles is something that I like very much since it ensures easy compatibility across a lot of motherboards and chipsets.
Testing Setup
Our testing got a little bit of an upgrade.
CPU: Ryzen R7 2700X
Motherboard: Asus TUF Gaming X570- Plus
Graphics Card: GTX 1060 6GB
Memory: Kingston FURY RENEGADE 4600Mhz Courtesy Kingston India
SSD: Sabrent Rocket 4.0 2TB Courtesy Sabrent USA
PSU: CM V1000W
Overclocking (Initial)
So, we were told to go a little bit of ham with the kit over time and we got a bit carried away. The carried away part will come later. Out of the box, the kit comes with two XMP settings:
XMP 4600 running at 19-26-26-45-67
XMP 4000 running at 19-23-23-42-94
However, both of the XMP will run provided you have a chip with a good Integrated Memory Controller(IMC) which our chip didn't have sadly. So we started with very low expectations(emphasis on VERY). As such we started with mp expectations and ended up with a moderate overclock of DDR4 3254MHz CL 18-23-23-53 @1.35v.
Performance-wise, the kit is not too shabby, and given the right setup, this can do some more damage and probably will set some records in the hands of a competent overclocker with proper tools.
Final Words
Kingston's Fury lineup is new but based on a lineup that has a proven track record. I still remember my first-gen Kingston FURY DDR3 1600 sticks which could do 2133 with ease or 2133 MHz DDR4 kits which could do 2933 with ease. Kingston has come a long way since then with higher frequencies and tighter timings but the legacy is going to stay for a long time.
This is a kit that should be your first choice if you are looking for a DDR4 kit with a mix of performance and bling. This kit is here to stay, as with the FURY lineup.
The Kingston FURY Renegade DDR4 comes with the classic Kingston quality and stability out of the box, You cannot go wrong with this one. However, if you are not looking for the blazing-fast 4600MHz speed, you might want to check its younger cousins and be happy with that.
A silver from TechARX for Now.