Jurassic World Evolution 2: Dominion Biosyn Expansion Review
Jurassic World Evolution 2: Dominion Biosyn expansion features a massive array of new content inspired by the epic cinematic events of the latest installment in the acclaimed saga.
Expanding on the Jurassic World Dominion story, players will team up with an all-star cast of characters from across the saga, including Dr. Alan Grant (with the voiced by Sam Neill), Dr. Ellie Sattler (voiced by Oscar winner Laura Dern), and Claire Dearing (voiced by Bryce Dallas Howard).
No Jurassic World Evolution 2 DLC would be complete without an outstanding collection of highly sought-after prehistoric species. As part of the expansion, two fascinating feathered dinosaurs make their way to the game for the first time: the ferocious pack hunter Pyroraptor and the intimidating Therizinosaurus. In addition to these impressive feathered species, the ancient carnivore
Dimetrodon, with its cross-shaped spine, and the predatory Quetzalcoatlus, a giant among flying reptiles, will make an amazing addition to any park or research facility.
The list of additions to Jurassic World Evolution 2: Dominion Biosyn Expansion is rounded out with a host of dinosaur variants and authentic looks for their movie counterparts: the flashy feathered and scarred Tyrannosaurus rex, stunning new looks for Dilophosaurus and Parasaurolophus, plus variants for the immense Dreadnoughtus and the formidable Giganotosaurus.
There are also opportunities to unearth rare genomes to create feathered prehistoric species and you also get a chance to develop your own sprawling research compound through multiple stages of construction. For the minimalistic park builders out there, there are now options to construct invisible fences to contain your dinosaurs, and move staff around your facility quickly with the Biosyn Genetics Hyper Loop transport network.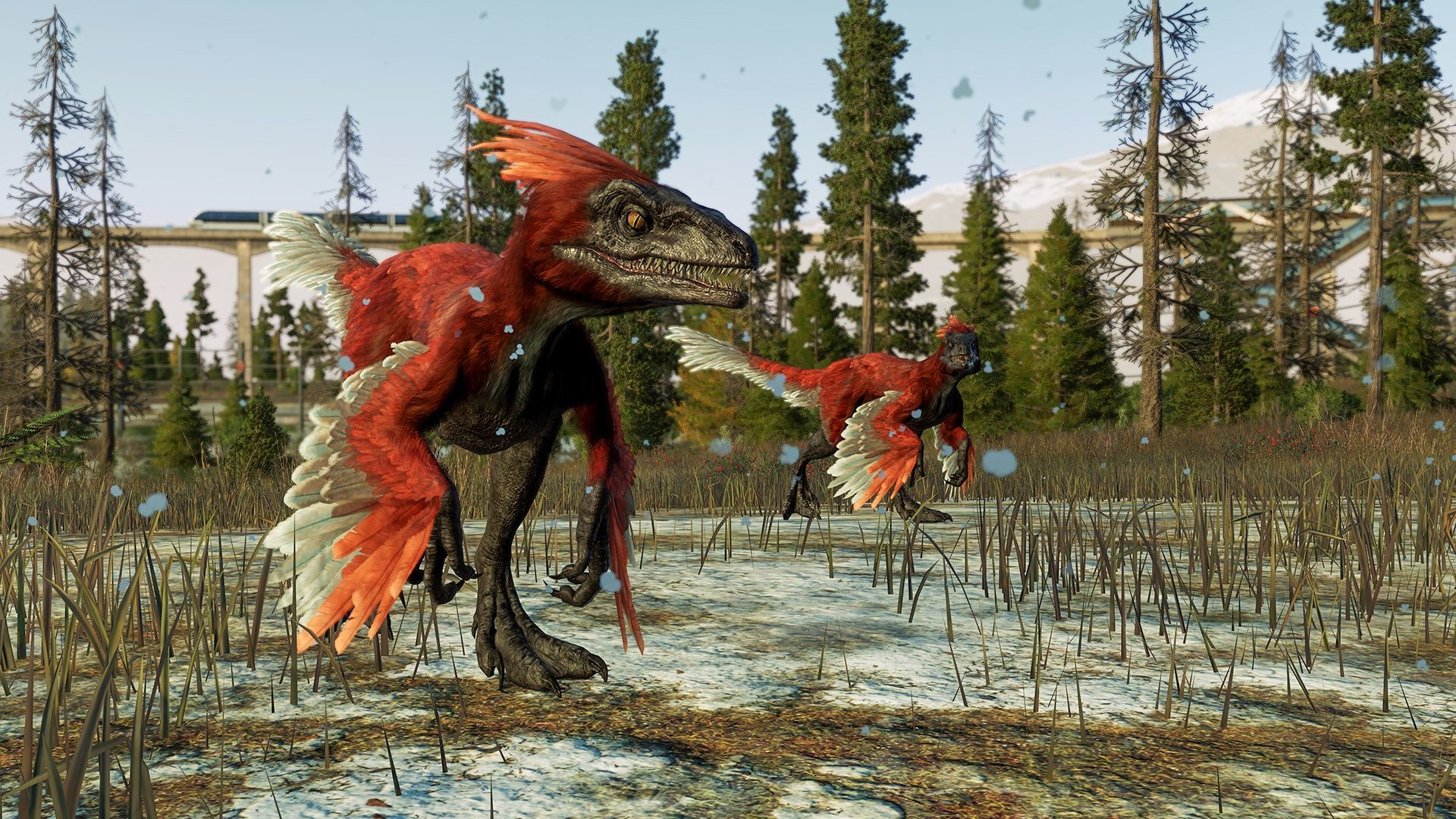 The biggest new addition comes in the form of a whole new campaign that tasks you with rebuilding the biosyn valley and in addition to the captivating storyline of the campaign, there's also a new "what if" scenario inspired by the epic events of Jurassic World Dominion in Chaos Theory mode.