The launch date for Intel 11th Gen Core desktop CPU series has been confirmed by MSI on the South Korean Danawa forum, they are said to be launched in March. Existing 400-series boards will support the 11th Gen CPUs, higher-end Z490 motherboard are supposed to receive the update first, the update for the 400-series boards will arrive in march as well.
This is a confirmation of the rumors that Intel will only lift the sales embargo on its upcoming 500-series motherboards (Z590, B560, H510), while the 11th Gen Core "Rocket Lake-S" processors will not be available till March. Previous dates that have been speculated are March 15th with availability expected in early April.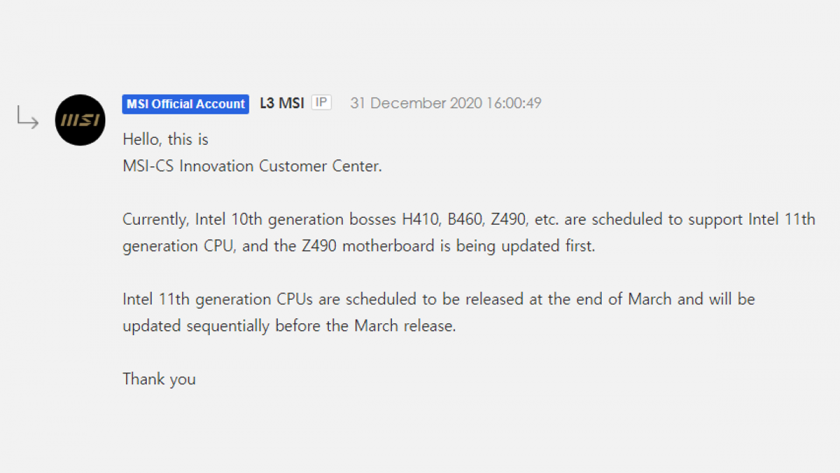 A new leak confirms that the flagship chip on the 11th gen series will be able to break the 700 points barrier in CPU-Z single-threaded benchmark. This will put a lot of pressure on AMD's Zen3 processor series, which was able to beat Intel's 10th gen series previously in the single-threaded performance, it's good to see more competition in the market and great news for CPU enthusiasts as well.
Intel is expected to talk about its 11th Gen Core series at CES 2021, including next-gen gaming Tiger Lake-H series and Rocket Lake-S CPUs. Both are expected to deliver an impressive double-digit efficiency increase over the previous 10th Gen CPUs.
Intel 11th Gen Core(Rocket Lake-S)Rumored specs
SKU
Cores/Threads
Base Clock
All Core Turbo
Turbo Boost 2.0
Turbo Boost Max 3.0
Boost/All Core
TDP
MSRP
i9-11900K
8C/16T
3.5 GHz
TBC
TBC
TBC
5.3/4.8 GHz
125W
TBC
i9-11900
8C/16T
3.5 GHz
3.8 GHz
TBC
TBC
4.4/3.8 GHz
65W
TBC
i7-11700K
8C/16T
3.6 GHz
4.6 GHz
TBC
5.0 GHz
–
125W
TBC
i7-11700
8C/16T
2.5 GHz
TBC
TBC
4.9 GHz
–
65W
TBC
i5-11600K
6C/12T
TBC
4.6 GHz
4.9 GHz
–
–
125W
TBC
i5-11600
6C/12T
3.0 GHz
TBC
TBC
–
–
65W
TBC
i5-11500
6C/12T
2.8 GHz
TBC
TBC
–
–
65W
TBC
i5-11400
6C/12T
2.6 GHz
4.2 GHz
4.4 GHz
–
–
65W
TBC