We were already pretty certain HTC has plans to unveil the new HTC One on March 1, but the company just confirmed it. The firm's U.K. Twitter account shared a new teaser ahead of the M9's officially unveiling, with a tagline that reads: "Let them stare." That could have double meaning: both for the device's camera, which should be much improved over previous iterations, along with an even better design than we've seen before.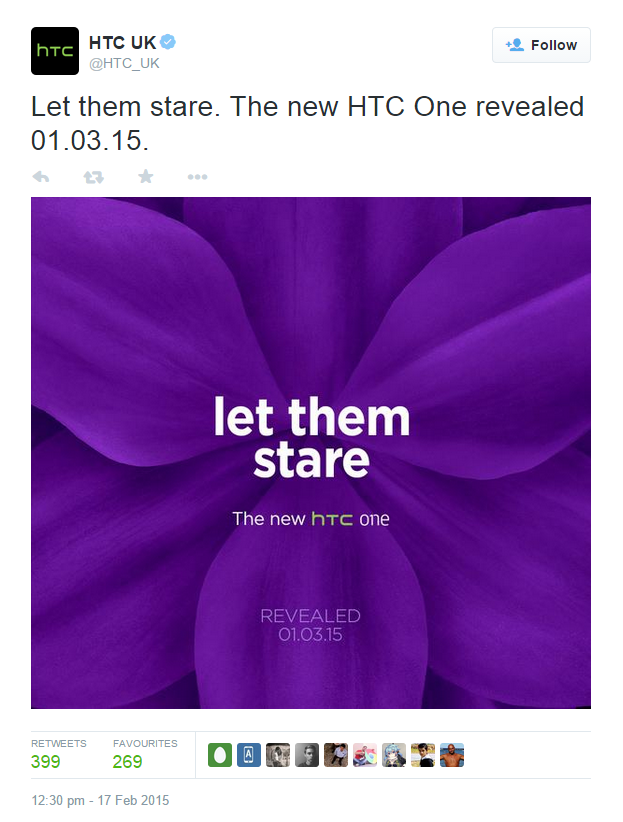 There's a lot to expect from HTC next month, but it essentially comes down to what the device will look like, along with how good its camera will be. The fact that the phone will get a bump in specs is a foregone conclusion—that's the unstoppable march of progress. But we want to see improvements where it counts, not just upgrades for the sake of upgrades. The M9's camera has to be good—Samsung is already talking big game about the S6's shooter.
We'll find out on March 1, and hopefully stare at not only a beautifully designed phone, but one with a solid camera. If the rumors are anything to go by, the M9's camera should get an upgraded 20-megapixel camera, which is a pretty significant upgrade for HTC's most popular flagship. Not long until we find out.
Source: HTC UK (TWITTER)