GIGABYTE TECHNOLOGY Co. Ltd, a leading manufacturer of high-end gaming hardware, has globally launched the GeForce RTX 4090 AERO OC 24G graphics card, which is powered by NVIDIA® ADA Lovelace architecture. GIGABYTE specifically designed this graphics card for creators and consumers who prefer a sleek silver-white design aesthetic. They have enhanced the designs and features of the AERO OC graphics card to fully unleash the unmatched performance of the GeForce RTX 4090, offering content creators and consumers everything they need.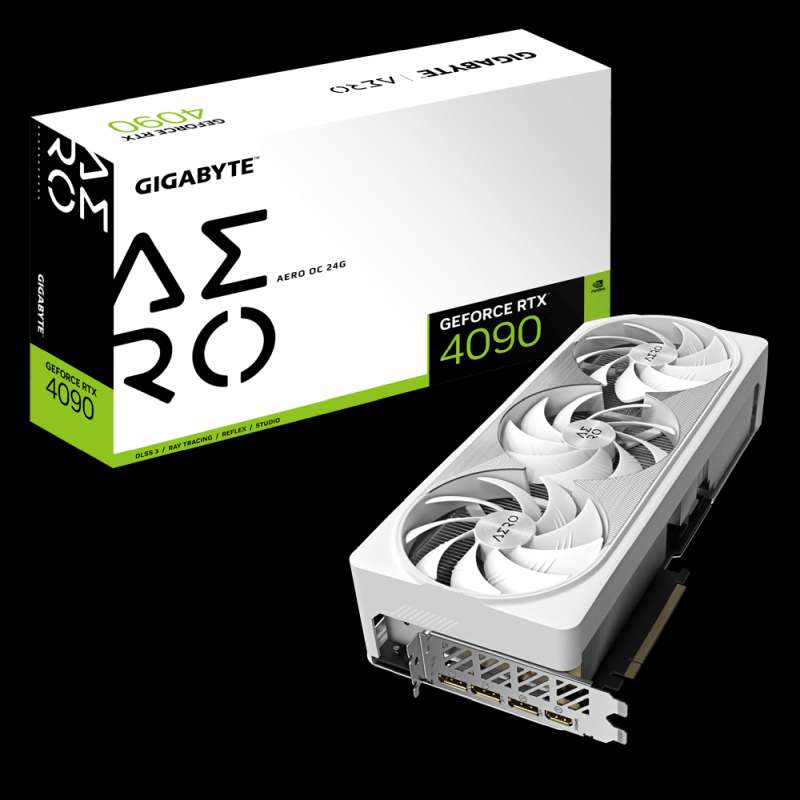 The WINDFORCE cooling system powers the GeForce RTX 4090 AERO OC 24G graphics card. Its three unique blade fans, alternate spinning, large vapor chamber with direct touch to the GPU, composite copper heat pipes, 3D active fans, and screen cooling maximize heat dissipation. Graphene nano lubricant extends the life of the fans by 2.1 times, delivering the lifespan of double ball bearing technology while operating quietly. The Dual BIOS design enables a silent mode for creators to work quietly. This mode reduces noise levels without compromising performance.
Gaming graphics cards for gamers mostly have a black appearance. The AERO OC graphics card breaks from the norm with a fashionable and high-tech silver and white design. Featuring a brushed metal finish the AERO OC's simple and elegant silver-white design is preferred by many.
The side logo displays different rainbow patterns at different angles and has a built-in RGB lighting effect, which can be customized via GIGABYTE CONTROL CENTER software. The graphics card includes an upgraded metal backplate and anti-sag bracket for optimized reinforcement. The silver-white bracket offers improved reinforcement and a sleek appearance, making it perfect for computer chassis with a light color and minimalistic style. Pairing the AERO OC graphics card with an AERO series motherboard creates an even more perfect overall computer style.
Consumers highly favor the AERO OC graphics card due to its impressive performance and elegant appearance. To provide an even better user experience, the AERO series graphics cards – GeForce RTX 4090 AERO OC 24G, GeForce RTX 4080 16GB AERO OC, and GeForce RTX 4070 Ti AERO OC 12G – offer customers a 4-year warranty (requires online registration within 30 days of purchase). This allows consumers to immerse themselves in gaming or creation with peace of mind.