The video is widely used nowadays, especially in this period of digital marketing. There are already many YouTube channels useful for teaching, but sometimes you can't find what you are looking for. The question then is: how do I make my own video? Today, a site will allow you to make capsules without knowledge of editing software, and that does not require more hardware than your computer!
FlexClip is indeed a practical and straightforward video creator that requires only a few minutes to be mastered but whose power is enormous!
The principle is simple: do you have an idea for a video? Let FlexClip help you achieve it with its many videos, images, sounds, and effects. It will certainly take you less time than a video montage from A to Z while retaining large freedom in terms of images and sounds. You can also start with an already pre-designed template.
As already mentioned, getting started is very easy, thanks to the ergonomic editing tool that allows you to do absolutely everything that a video editor would allow you to do. You can thus add pieces of videos, animations, transitions, text, and record screen, etc. There are even filters to change the colors of your image or video.
Once your video is complete, simply export and download it. In the free version, you can only export in 420p (Small Definition). But if there are not too many details, this is enough. There are other features not available in the free version, but we will come back to this in the next point.
Once you have exported and downloaded your video, just upload it directly to a video platform (YouTube, Facebook, Twitter, etc.) and send the link to your friends.
The three export possibilities, in the free version you can only export in 480p.
Now the downside: the paid version. FlexClip is absolutely not made for educational purposes, so you will not find a teaching offer there.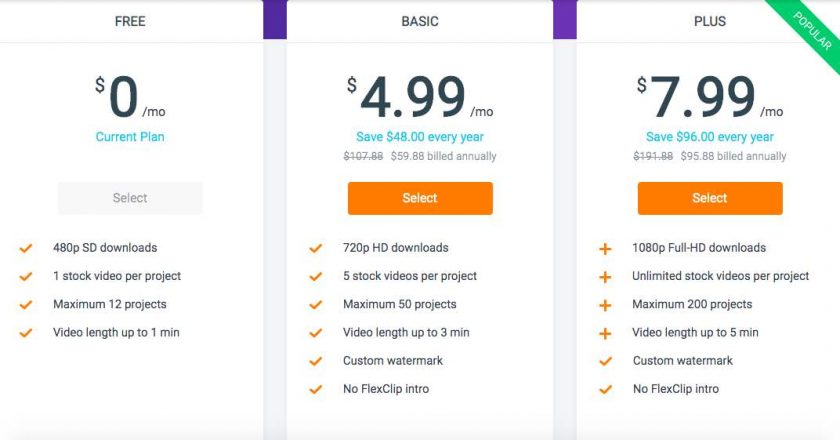 The free version is, however, self-sufficient for occasional use. Here are the features you have with this version:
Export and download in 480p
1 single video or image from banks per project
Storage of a maximum of 12 projects
The maximum duration of 1 minute
However, if you do not respect one of these conditions (number of items from banks or duration), you will still have the possibility to download your video. However, your video will be provided with the FlexClip introduction without you being able to remove it via the editor.
There are, of course, paid versions (2 offers) which allow more functionality and the possibility of a monthly or annual payment.
FlexClip is a very useful tool for all types of users, with more than enough features since its free version. It is not necessary to have extensive knowledge in video editing (as it happens with some software), only one thing is required: Having a very clear idea of what we want to obtain and FlexClip gives us the tools to achieve it.