Crucial Ballistix Sport XT DDR3-1600 8GB Memory Module Review – Micron Arrives
DDR3 is still world's most used consumer memory platform. While it's been almost a year with DDR4, the adoption rate is following the normal trend for any new technology. The market for DDR3 has seen many ups and downs and remains as fluctuating as ever, prices at times too volatile or too steep for normal users. In my previous DDR3 memory reviews, I have prioritized on the point that many of my co-reviewers in different websites have told and proven by data: that you don't need ultra-fast memory, yet. The recent tests have shown that for most modern systems we don't really benefit from memory speeds beyond 2400MHz, and even that speed is only utilized by a handful of applications. Most games do not have any impact of high speed memory, and the most we have seen a platform take advantage of memory speeds belong to AMD's APU-based offerings.
That being said, if we look at most acceptable DDR3 kits today, the lowest end that users have migrated to happens to be DDR3-1600. 1600MHz remains a stable and good choice, and most kits can do 1866MHz either with same voltage/timings or with minor bumps in case some additional performance is needed, achieving the price/performance sweet spot even though we have seen manufacturers go overboard with 3000+MHz kits. The memory kits I had the chance to review earlier have bordered towards higher clock speeds, but that changes today. We have for review the Crucial Ballistix Sport XT 8GB DDR3-1600 memory. This is Crucial's first foray in India, strangely since their parent brand Micron is one of the largest memory and flash storage manufacturers in world, and have been present in most major markets.
Nevertheless, the Ballistix brand is quite diversified like all other major memory brands. We have the Elite which is right now available both in DDR4 and DDR3 flavour. Up next is the Tactical range – split between VLP, Tracer and DDR3/DDR4 variants. Lastly Ballistix Sport has similar DDR3/4 variants with low profile (LP) versions, SODIMM memories for SFF/laptops as well as Sport XT – the kit that we'll be reviewing today. One thing to note here that the heatsink colours are mostly similar across the range, with black/slate grey/yellow shades adoring different designs. The Sport XT however is available in only blue which is contrasting for the entire range.
The clear blister packaging is typical and contains information about the Ballistix kit. I was surprised to see the front of the pack containing less branding compared to other brands with similar packaging. Fortunately the front of the package has the information about the product as well as the serial number and specifications.
Once removed from the tightly sealed package, the first thing that you notice in the Ballistix Sport XT memory module is the tall metal heatspreader. The design language is kept at a minimum with aesthetic touches like the silver strips around the BALLISTIX branding. The green PCB underneath is visible around the edges and at the bottom.  I was a little disappointed to not find a black PCB, but since once installed in a motherboard the PCB remains hardly visible, this is not a big issue. I didn't open the heatsink to take a look at the memory chips underneath, but careful inspection did reveal a double sided configuration with sixteen memory chips. Each IC comes with 512Mb of memory, pertaining to a total of 8GB per module. I am a little concerned with the tapering heatsink design that Crucial has put in as this may cause issues with big air cooling solutions like the NH-D15. The blue colour scheme is neutral enough to go with most builds though more colours would always be welcome.
Test System:
The following test system was used for this review:
Intel Core i7-4770K, Haswell, 4C/8T, 3.5GHz base/3.9GHz turbo
ASUS Maximus VII Hero, Z97, BIOS version 1104
Crucial Ballistix Sport XT DDR3 memory, 8GB, 9-9-9-24
Asus AMD Radeon R9 290X Matrix, Hawaii
Samsung 840EVO 256GB SSD for OS/benchmarks
Western Digital 3TB HDD for data
Cooler Master Silent Pro M2 1000W power supply
Custom Liquid Cooling for CPU
Corsair Carbide Air540 case
A big shout out to Crucial for providing the memory sample.
Benchmarks:
First up I ran several popular benchmarks and noted down the performance of the Ballistix Sport XT kit in different frequencies. The change in frequencies were done via UEFI without touching anything else. If we notice the numbers we will see a similar curve in most of them, indicating at similar timings, faster memory is better (up to a mark).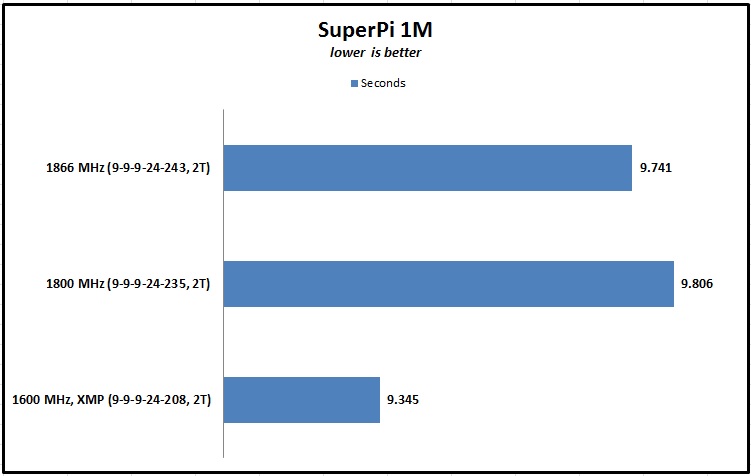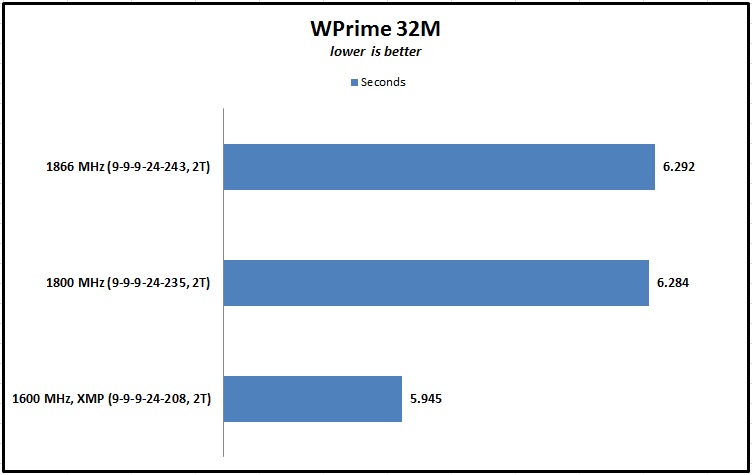 Now it was time to keep the frequency fixed and toy with the timings. I kept the frequency at 1600MHz and changed the timings from 7-9-9-24 to 13-15-15-24.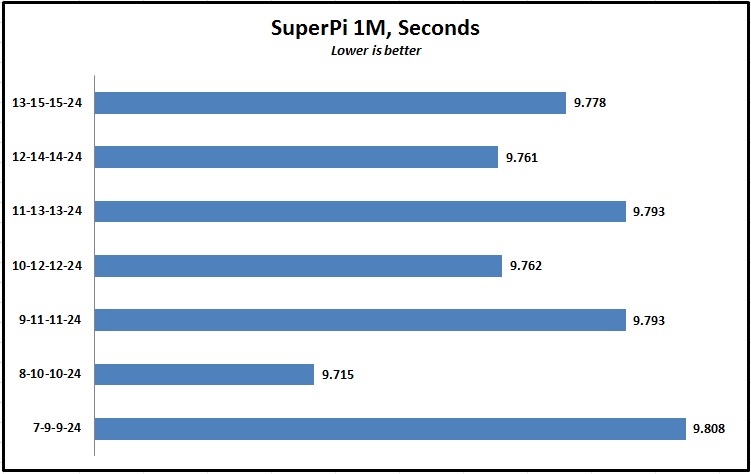 Lastly, I compared the Ballistix kit to a G.SKILL RipjawsZ memory module that I use for my personal rig to see how it fared.
Overclocking:
The Ballistix Sport kits proved to be decent overclockers. I was able to push through to 1866MHz without any voltage changes whatsoever. But getting them beyond 1866MHz proved to be impossible, even with added voltage.
Conclusion:
It's always nice to have more options – be it in a pizza parlour or while shopping for computer hardware. Indian markets in past have been dominated by a few select brands, and so the buying decision was forced to be limited. Now with brands like Crucial finally opening doors here, we as common customers can rejoice. Micron being the driving force behind Crucial also brings good news in terms of reliability.
The Ballistix Sport XT is a nice entry level offering with performance at par with competing kits. The aesthetics is simplistic and while the lack of a green PCB can be ignored, the use of a tall heatsink may cause some concerns for people using large air coolers. These kits are also easy to overclock to at least 1866MHz, though your mileage may vary beyond that. Overall, if you are looking for some nice set of RAM to complement your system, the Ballistix Sport XT should be a great alternative to the other memory modules available in the same price range.
You can find out more info about the Ballistix Sport XT range in this video from Crucial:
https://www.youtube.com/watch?v=tqdobGXrks0