COLORFLY Announces Pocket HiFi U8 Portable Media Player
July 26th, 2018, Shenzhen, China – COLORFLY, an independent subsidiary of the COLORFUL Group (CFG) and professional manufacturer of world-class HiFi portable players is proud to introduce the latest addition to its growing line of HiFi products. The COLORFLY Pocket HiFi U8 portable media player features a 3.97" WVGA IPS touchscreen to control the device and features COLORFLY's unique, in-house developed DAC. Two COLORFLY Alpha DACs alongside AMPT and JitterKill II technology allow the COLORFLY Pocket HiFi U8 to bring crisp and lively audio.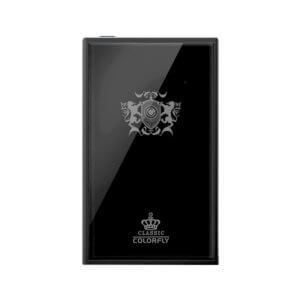 JitterKill II Generation Technology
Using ultra-low phase noise crystal designed specifically for HiFi Typical -100dBc / Hz @ 10Hz, greatly reducing jitter.
For conventional use of 22.5792MHz, 24.576MHz dual crystal, even ultra-low jitter and phase noise – 0.2PS have also affected the data reduction. In order to eliminate jitter and phase noise, we use 45.1584MHz, 49.152MHz high-frequency crystal and also special custom DE-JITTER chip, to achieve "zero jitter" frequency.
AMPT (Advance Memory Playback Technology)
A new generation of HiFi processing solutions optimize the original audio architecture, audio data stream directly from the memory, not through the CPU data conversion, reduce the latency of the data stream latency and the audio data stream path, to achieve stable signal transmission and ensure the sound is clean and Transparent, to minimize the impact of the operating system on audio reduction.
DLNA Functionality
The COLORFLY Pocket HiFi U8 features support for DLNA allow your media library on your network to be played on the device. This allows shared multimedia files from PC, NAS and other devices to be played on the COLORFLY Pocket HiFi U8 for easier access and a greater number of sources to be played.
Specifications

Audio Performance:
DNR@600RZ  123dB
THD+N@600RZ  0.00025%
Maximum Output Power  130mW
Visit COLORFLY's Website at https://en.colorfly.net/