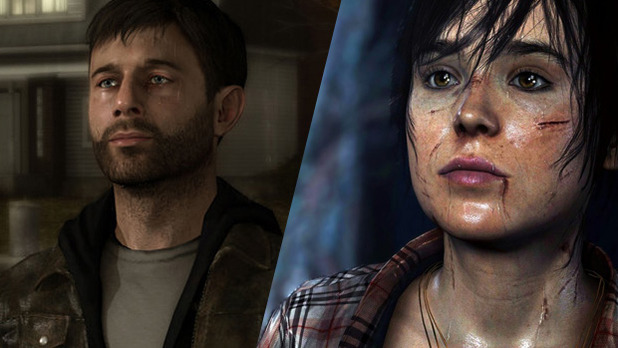 Playstation 4 owners, Rejoice ! As you are getting two new games for your PS4 library. Well that is if you consider remasters as new games.
Posted just now back at official playstation blog, Heavy Rain and Beyond : Two souls, two of the critically accloaded Ps3 games by Quantic Dreams is getting a remaster treatment.
Announced by Guillaume de Fondaumiere, Quantic Dream co-CEO, Beyond: Two souls is releasing for playstation 4 on November 24 2015 at the PlayStation Store for $29.99.
Also, Heavy Rain will be releasing for PS4 digitally next year on March 1st.


Both the games are getting graphical enhancements and new features demanded by the fans.
The PS4 edition of Beyond: Two Souls features a number of improvements:
Enhanced 1080p graphics including motion blur, bloom and depth of field effects, as well as improved lighting and shadows. The game also makes use of the DualShock 4 speaker to improve immersion when playing as the Entity.
Decisions are highlighted at the end of each scene and compared with those made by other players.
Once you have completed Beyond: Two Souls, you will be able to replay the game in chronological order — a much requested feature in the PS3 version!
Increased difficulty in certain fight scene, combined with improved controls for action sequences.
Includes the "Enhanced Experiments" DLC.
On top of that, fans who will be buying Beyond: Two Souls digitally will be entitled to download Heavy Rain on PS4 when it releases at a discount. It is also confirmed by playststion vlog that both the games named as The heavy Rain and Beyond :Two Souls collection will also get a retail physical release next year on 2nd March in Europe and 4th March in UK.
You can read the full announcement here-
http://blog.us.playstation.com/2015/11/19/beyond-two-souls-coming-to-ps4-on-nov-24th-heavy-rain-out-next-year/
So, newcomers, it is a high time for you people to play two of the best game of the ps3 era.
Beyond: Two Souls is releasing exclusively for playstation 4 on November 24 2015 in the US and 26th for Europe and UK. Heavy Rain is also releasing exclusively for playstation 4 on March 01 2016