ASUS Unveils the All-New ZenFone 5 Series at MWC 2018
ASUS  today unveiled the all-new ZenFone 5 Series at a special event in the Italian Pavilion at MWC 2018 in Barcelona, Spain.
The lineup includes ZenFone 5Z and ZenFone 5, exciting high-performance 6.2-inch dual-camera smartphones that are the first-ever ZenFone models to harness the power of artificial intelligence (AI), and which feature all-screen displays with a 90% screen-to-body ratio in a remarkably compact size that's comparable to a standard 5.5-inch smartphone. ZenFone 5Z — which starts at the groundbreaking price of just €479 — is an extreme-performance version of ZenFone 5 powered by the latest flagship Qualcomm® Snapdragon™ 845 Mobile Platform with the Qualcomm Artificial Intelligence Engine (AIE), featuring up to 8GB RAM and 256GB ROM for breathtaking performance and the most accelerated AI experiences. ZenFone 5 is the first smartphone available worldwide to be powered by the latest Qualcomm Snapdragon 636 Mobile Platform.
ZenFone 5 Lite is a stylish 6-inch smartphone featuring the world's first globally-announced true four-camera system, with a high-resolution camera and a 120° wide-angle camera at both front and rear.
"We embarked on the ZenFone project four years ago with the idea to create empowering luxury for everyone to enjoy," said Mr. Shen. "Today, the ZenFone 5 Series is the most intelligent ZenFone series ever, utilizing advanced AI algorithms and big-data analytics to provide users with a unique slate of intelligent camera, communication and convenience features."
Joining Mr. Shen on-stage for the announcement, Qualcomm President Cristiano Amon commented, "We are excited to continue to work with ASUS to bring the latest advancements in mobile to consumers with the ZenFone 5 Series. Powered by powerful Snapdragon Mobile Platforms, ZenFone 5Z (Snapdragon 845 with the AIE) and ZenFone 5 (Snapdragon 636) will support superior user experiences that include dual cameras and artificial intelligence."
Following the press event, OK Go — a multi-award-winning rock band from the US, whose honors include a GRAMMY® — performed live at the after party. OK Go has joined in partnership with ASUS to work on the ZenFone 5 marketing campaign.
In addition to the products unveiled on stage, the brand-new ZenFone Max (M1) smartphone and ASUS NovaGo always-connected laptop were also showcased in the demo area.
ZenFone 5Z and ZenFone 5
ZenFone 5Z is an exciting next-generation 6.2-inch, dual-camera smartphone that comes with a beautiful all-screen display featuring a 90% screen-to-body ratio, packed in a 5.5-inch body size. It's the first-ever ZenFone model to harness the power of the latest Snapdragon 845 Mobile Platform with AIE, featuring a 3rd Generation AI platform that includes the Hexagon 685 Vector DSP, Adreno 630 Graphics, and Kryo 385 CPU. ZenFone 5Z also benefits from the Snapdragon X20 Gigabit LTE modem, delivering speeds that surpass the gigabit barrier for a 'wireless fiber' experience, as well as integrated 2×2 802.11ac Wi-Fi and Bluetooth® 5 for ultra-low-power wireless earbuds. The extreme-performance ZenFone 5Z comes with up to 8GB RAM and 256GB ROM, offering breathtaking performance combined with outstanding energy efficiency for long-lasting battery life.
ZenFone 5 features an exquisitely crafted design, an amazing dual-camera system, and is powered by the latest Snapdragon 636 Mobile Platform. For an instant blast of extra power the exclusive ASUS AI Boost — available on both ZenFone 5 and ZenFone 5Z — optimizes performance for games and other demanding tasks.
ZenFone 5Z and ZenFone 5 feature intelligent dual-camera systems that adapt and learn, delivering perfect photos every time. Equipped with the latest flagship Sony® IMX363 sensor with large 1.4µm pixels, an f/1.8 wide-aperture lens,120° wide-angle secondary camera, four-axis optical image stabilization (OIS) and AI-enhanced camera features — including AI Scene Detection for 16 different scenes and objects, AI Photo Learning, Real-time Portrait and Real-time Beautification — ZenFone 5Z and ZenFone 5 encourage creativity and free the user to concentrate on the subject rather than the camera.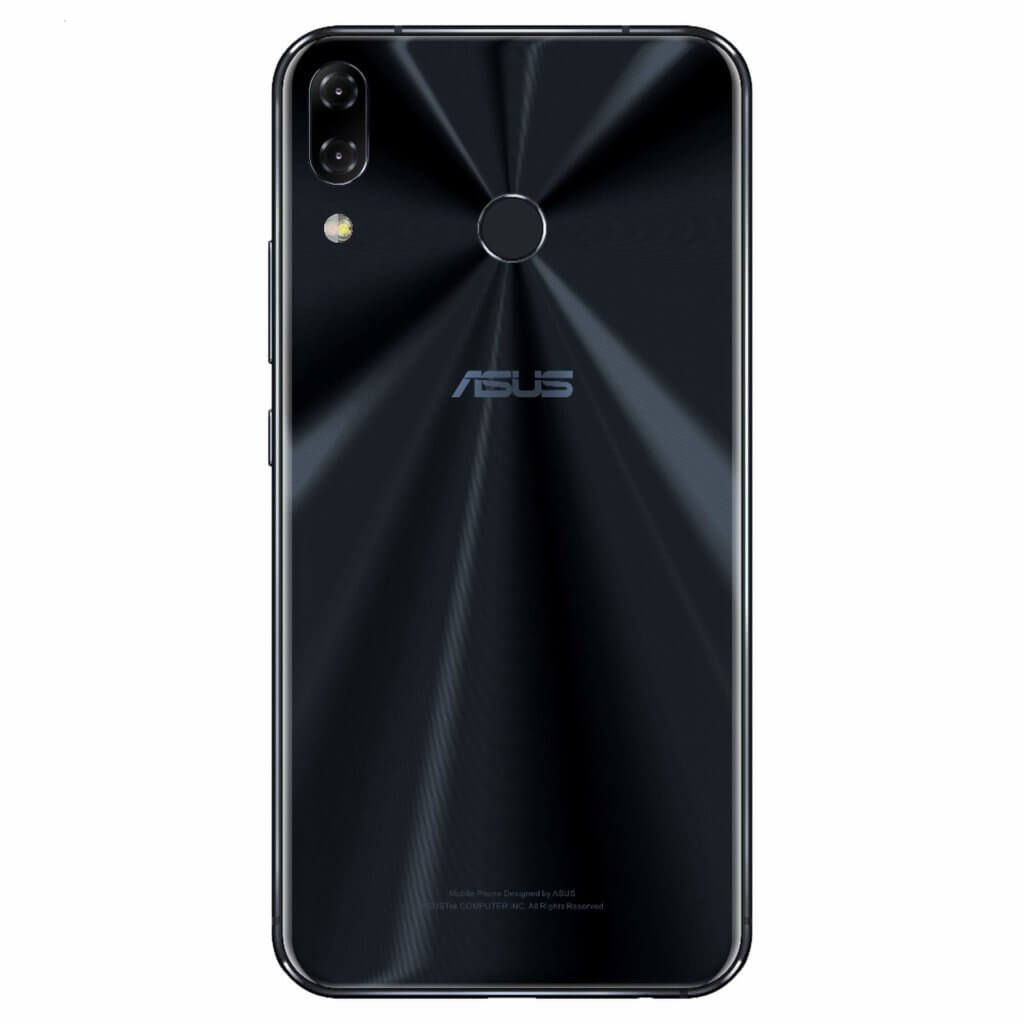 ZenFone 5 Lite
ZenFone 5 Lite is a stylish 6-inch smartphone featuring the world's first globally-announced true four-camera system with high-resolution and wide-angle cameras at both front and rear. ZenFone 5 Lite removes the limits on photographic creativity, with a high-resolution main camera — 20MP Sony at the front, 16MP at the rear — and, uniquely, a secondary 120° wide-angle camera at both front and rear. Unlike rival systems, each camera works independently every time for perfect selfies, wefies, landscapes, portraits or groups shots. The 6-inch Full HD+ IPS display has a Full View 18:9 aspect ratio and an ultraslim bezel, making the pocket-friendly ZenFone 5 Lite as compact as a standard-aspect-ratio 5.5-inch phone. Powered by the Snapdragon 630 Mobile Platform, ZenFone 5 Lite combines incredible performance, optimized power efficiency and a 3300mAh battery with advanced security and convenience features — including NFC, triple-slot SIM/microSD card holder, rapid face unlock and fingerprint recognition — for a mobile experience like no other.
ZenFone Max (M1)
ZenFone Max (M1) is the latest model in the new ZenFone Max Series — the world's only range of high-battery-capacity smartphones. ZenFone Max has a 5.5-inch full-view display in an amazingly compact body that's no larger than many standard 5-inch smartphones, yet comes packed with a high-capacity 4000mAh battery.
With its expanded viewing area, compact size, dual rear cameras with 120° wide-angle lens, and convenient fingerprint-based unlocking, ZenFone Max offers a class-leading combination of features designed to encompass all life's adventures. ZenFone Max has the stamina to go the distance, and lets photo-lovers see the bigger picture with a wider range of creative options — all in a stylish metallic-finished design that's ergonomic and comfortable to hold.
ASUS NovaGo
NovaGo is the world's first Gigabit LTE-capable laptop designed for truly connected mobility, providing users with an always-on, always-connected experience. This ultrathin and light convertible laptop is powered by the Snapdragon 835 Mobile PC Platform, and features a Snapdragon X16 Gigabit LTE modem for download speeds up to 3-7 times faster than average broadband speeds as well as has integrated 2×2 11ac Wi-Fi and Bluetooth 5 support. It has up to a 22-hour battery life with over 30 days of modern standby, and a built-in eSIM that ensures seamless connectivity across borders . Quick-charge functionality gives NovaGo up to five hours of battery life from a 15-minute charge.
NovaGo is a new breed of laptop designed for the tech-savvy user who is aware of the new and exciting always on, always connected possibilities and to provide familiar Windows experiences plus all the new features such as Windows Ink, Windows Hello and Cortana with blazing-fast connectivity and exceptional on-the-go power efficiency.
We will bring more info as soon as we get them through official channels, Till then stay tuned!
Read more about the ZenFone Max (M1) here