— ASUSRepublic of Gamers (ROG) today announced ROG Swift 360 Hz PG259QNR, the world's fastest esports gaming monitor with refresh rates of up to 360 Hz. This 24-inch monitor features Fast IPS panel technology, as well as built-in NVIDIA® G-SYNC® and Reflex Latency Analyzer technologies. PG259QNR also includes the ROG Desk Mount Kit. PG259QNR will be available in Q4 2020, while ROG Swift 360 Hz PG259QN — a similar model without the Reflex Latency Analyzer and the ROG Desk Mount Kit — will be available this month.
NVIDIA Reflex Latency Analyzer
ROG Swift 360 Hz PG259QNR features NVIDIA G-SYNC technology and the NVIDIA Reflex Latency Analyzer, a revolutionary integrated system-latency measurement tool. PC performance for competitive gaming is about responsiveness — how quickly the display updates after mouse clicks or movements. The Reflex Latency Analyzer detects clicks coming from the mouse and then measures the time it takes for the resulting pixels (such as a gun muzzle flash) to change on screen. This type of measurement has been virtually impossible for gamers to do before now, requiring over $7000 worth of specialized high-speed cameras and equipment. Reflex Latency Analyzer provides a much more complete and accurate understanding of mouse, PC, and display performance. With Reflex Latency Analyzer, gamers can now start a match with confidence, knowing their system is operating exactly as it should be.
Superfast and silky-smooth gameplay
The astounding 360 Hz refresh rate offered by PG259QNR delivers up to 50% more frames per second than 240 Hz gaming monitors, giving gamers an edge over the competition.
The 24.5-inch FHD (1920 x 1080) display features Fast IPS panel technology for a superfast 1 ms gray-to-gray (GTG) response time, thanks to liquid crystal elements in the display that turn on and off up to four times faster than those in conventional IPS panels.
ROG Desk Mount Kit
PG259QNR can also be clamped to the edge of almost any flat work surface via the ROG Desk Mount Kit. The stock adjustable mounting arm of the monitor drops right into the desk mount, making more room for a keyboard and mouse so gamers can sit closer to the screen.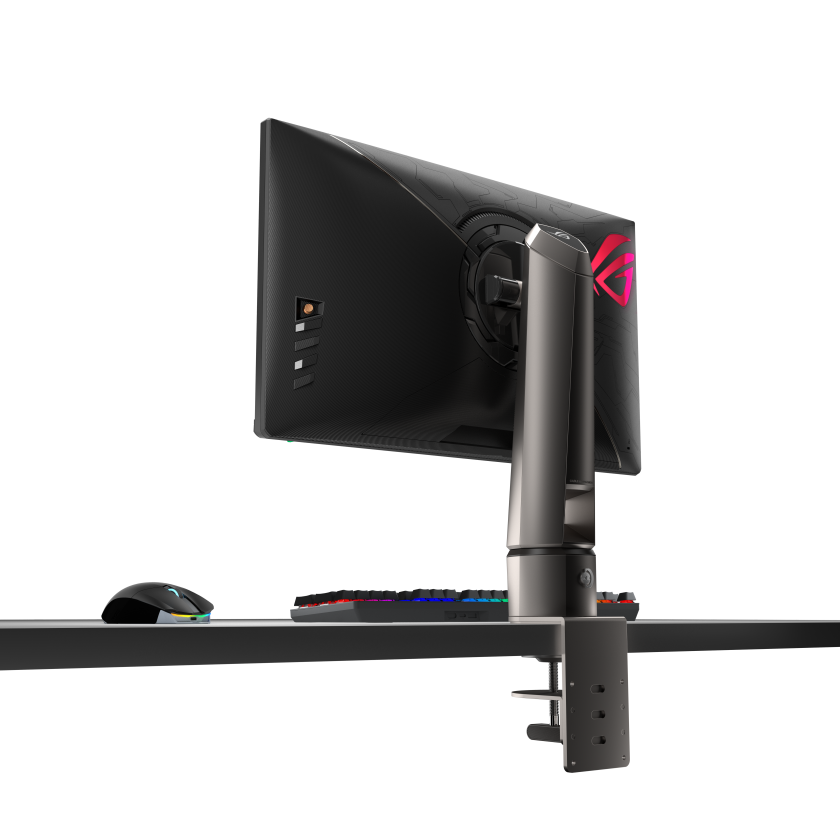 The esports-friendly design of PG259QNR allows gamers to focus on the onscreen action. The monitor keeps distractions to a minimum, thanks to a special non-reflective bottom bezel helps reduce onscreen reflections, as well as a new indicator light on the underside of the bezel that's out of the player's line of sight. A space-saving V-shaped stand allows gamers to free up more space for their gaming setup.
Product Gallery