Matrix Platinum represents Asus' flagship GPU lineup, a top of line product in their stack, and part of their Republic of Gamers moniker. R9 290X has been out for a year or so from AMD, and while it came with an unprecedented price/performance ratio, retailing at $500 at the time of release and being at par/better than the rival GTX780, AMD's reference design was criticized for its absolute failure to keep the card running quiet and cool. That was almost wholly remediated once third-party manufacturers started strapping their own aftermarket cooling solutions in the card. Today we are looking at Asus' take on the R9 290X, albeit on a premium side of things. Asus also has their DCUII models in the market for a different segment, and there is also a R9 290X Matrix Platinum version of this card with lower base clocks.
Specifications for the card: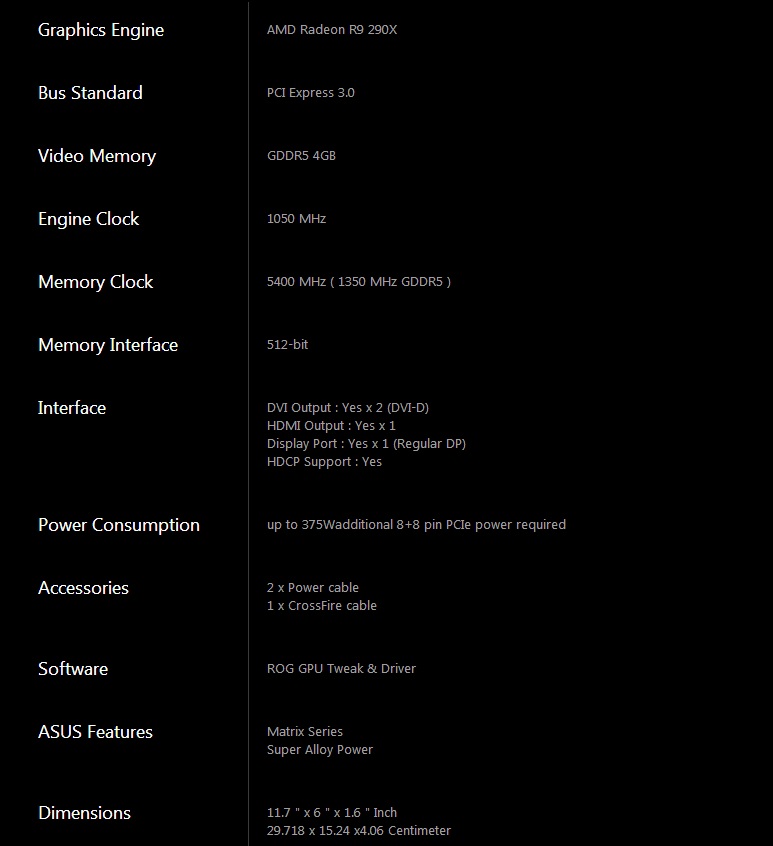 In this article we will look at the packaging/design of the R9 290X Matrix Platinum and give you a sneak peek about the performance numbers. So without further ado, let's jump into it.
The box is pretty standard-fare ROG, with red liveries differentiated by shades. AMD and the surrounding area is a brighter red while the rest of the packaging is in a deeper, carmine red.
Back of the box houses features for the card. Cooling technologies/IO options and general specifications are listed here.
A removable flap has all the Asus' proprietary features listed. Here we see the LN2-specific settings that Asus has built into the card as well as the evolution of their DCUII cooling design. Also seen is their DIGI+ VRM which comes with premium Japanese-made 10K black-metallic capacitors and their BlackWing chokes. Here is where we get the first glimpse of the card.
Having used a GTX580 Matrix Platinum before, I wanted to see how Asus had evolved the design.
Before we look at the card though, let's look at the accessories. A ROG batch, a driver CD+Manual and a dual 6 pin to 8 pin PCIe connector is included.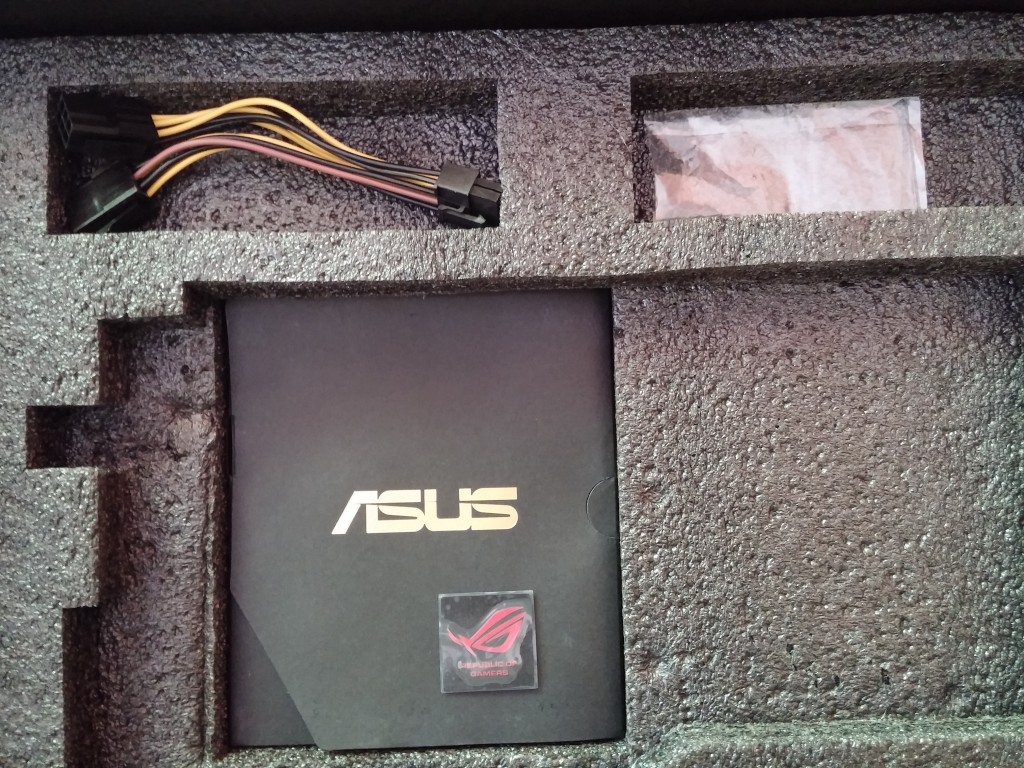 Now to the good part.
The design looks nothing short of amazing. I remember the previous Matrix cards being 3 slots, and to see a 2 slot design for something as hot as R9 290X is an engineering feat. With sharp, edgy design, and keeping the red at a minimum, Asus has kept the design classy and not gaudy. Also, clearly seen from the front is that they are using two different fans for cooling. The left fan which is directly on top of the GPU chip is a different in fin density and design than the right fan. More on them in the review.
As with all Matrix cards, there is a sturdy backplate with Asus Matrix printed on it (thankfully in the correct way). The cooling shroud does not overextend the PCB and keeps within its limits.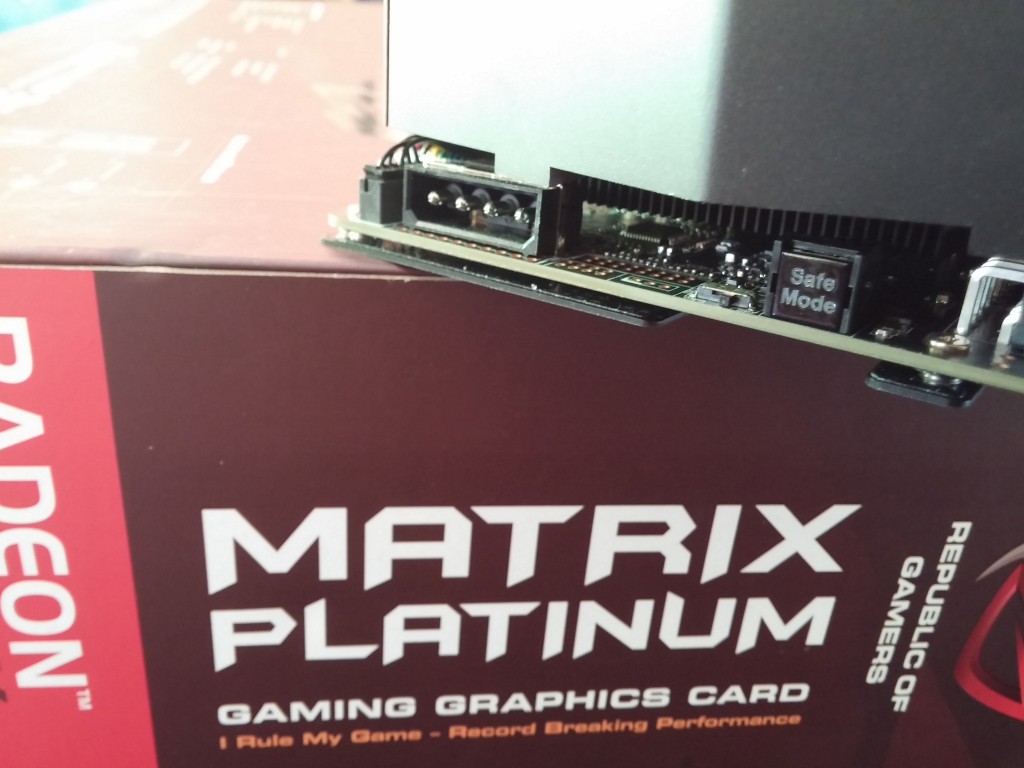 An additional 4 pin MOLEX power connector is provided for Memory Defroster. This is not needed unless you are putting the card under LN2. A safe mode button is also there beside it, and provides a good way to boot the card should any settings crash/hang it.
In terms of IO, two DVI-D, a single HDMI and a DisplayPort connector is there in the back of the card along with some ventilation.
This card requires two 8 pin PCIe power connectors. Also seen in this picture is the illuminated Republic of Gamers logo which changes color depending upon GPU load (Light Blue/Green/Yellow/Red).
Finally, voltage checkpoints can be seen in the back of the card, on the left hand side. This comes particularly handy during extreme overclocking sessions.
All in all, I think we've got a solid card in our hands. But can it perform as good as it looks?
Here's something to keep you guessing till the final review comes out: