Asus announced their Republic of Gamers lineup of hardware, laptops, monitors and peripherals at CES 2016
Laptops
ROG GX700
One of the most ambitious and impressive machines on the list is the ROG GX700 Laptop. First revealed at IFA 2015 in Berlin, this Asus gaming laptop is being touted as the world's first liquid-cooled gaming laptop thanks to its detachable ROG Hydro Overlocking System. This laptop comes with an unlocked 6th-generation (Skylake) Intel processor, massive 17 inch, the ROG GX700 also features a GTX 980. Yes, the desktop variant.
ROG G752
This refresh of a more standard gaming laptop still comes with a great deal of power which won't require a docking station to maximize its performance. The ROG G752 comes with a 6th-generation Intel Core i7, NVIDIA GeForce GTX 980M gpu, and the option to upgrade to 64GB of DDR4 RAM. It also comes with 3D Vapor Chamber thermal system for efficient cooling.
Desktops
ROG Maximus VIII Formula
Asus also announced the ROG Maximus VIII Formula motherboards for full desktop gaming rigs. These motherboards are built with Z170 ATX architecture to support 6th-generation Intel desktop processors and feature CrossChill EK cooling system which is a hybrid of air and liquid cooling right on the motherboard and comes with RGB lighting.
ASUS 970 Pro Gaming/Aura
For those who have an AMD chipset as opposed to Intel, Asus announced the 970 Pro Gaming/Aura motherboard, which is the first AMD 970+SB950 chipset based ATX gaming motherboard to support the latest AMD processors.
B150I Pro Gaming/Wi-Fi/Aura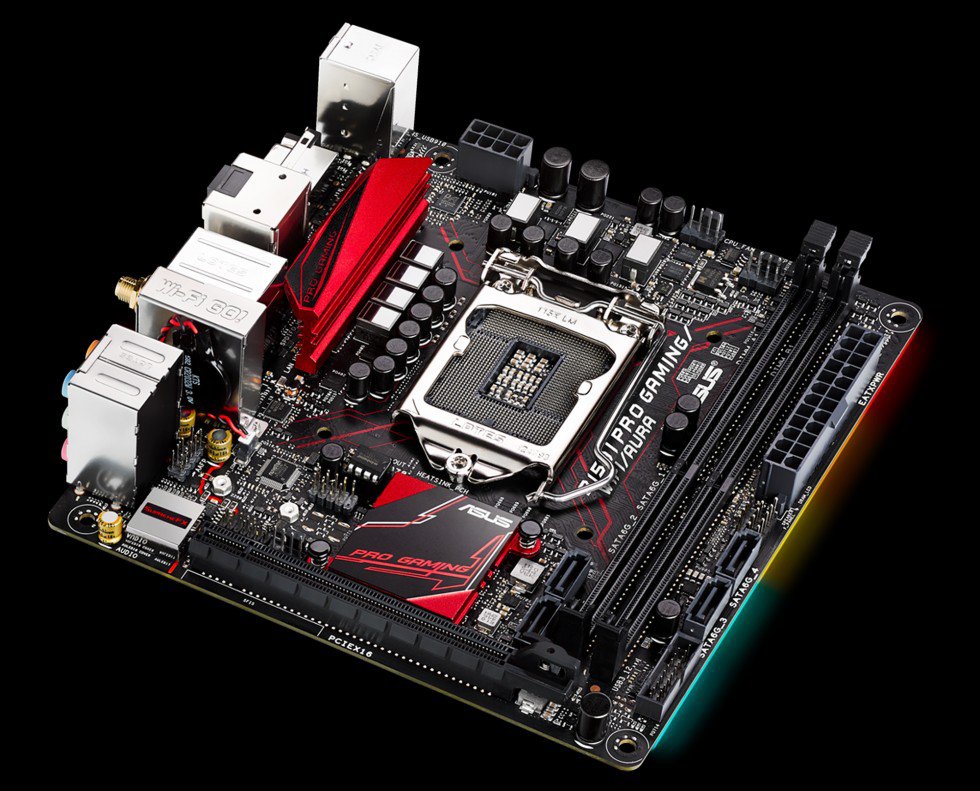 This mini ITX motherboard comes with customizable LED lighting, built in 802.11ac WiFi, an M.2 socket to make use of the latest high-speed solid-state drives, a dedicated onboard water-pump header to support water-cooling, and other ROG technologies such as SupremeFX and Sonic Radar II audio. All of this packed into a mini ITX form factor.
ROG GT51 gaming desktop
Asus's newest gaming desktop won the 2016 CES Innovation Award in the Gaming and Virtual Reality category for its massively powered ROG GT51. As you might expect it comes with a Skylake chipset as well, but features the powerful 6700K processor, which can be overclocked for increased performance. It can also support multiple NVIDIA GTX Titan graphics cards to enable running games on three 4k resolution monitors. The ROG GT51 comes with its own software known as Turbo Gear to make overclocking and monitoring your system easy, with just a single click. The desktop PC additionally features its own cooling system which has a dedicated air tunnel. The case itself features a side window to display the impressive inner hardware, and has customizable lighting effects which are capable of up to 8 million different colors.
Monitors
Asus announced new monitors as well today that are great for gamers. There are both 28 and 24 inch variants of their 4k MG displays which feature 3840 X 2160 resolution and 1ms response times.
ROG Swift PG348Q Gaming Display
The biggest monitor Asus announced is the ROG Swift PG348Q. This Ultrawide Quad HD (UWQHD) display features 3440 x 1440 resolution on a single 34 inch panel, a 100Hz refresh rate, and NVIDIA G-Sync technology.
Peripherals
ROG Spatha wireless/wired gaming mouse
The latest ROG gaming mouse features 8200 DPI, 12 programmable buttons, and can be wireless or wired.
ROG Claymore mechanical gaming keyboard
This mechanical keyboard is specialized for gamers and features unique backlighting that is customizeable with RGB ligting and N-key Rollover technology. It can also be synced with ROG motherboards allowing the hotkeys to control fan speed, boot up, CPU and memory overclocking, and BIOS access.
ROG XG2 external graphics docking station
The Asus ROG XG2 is an docking station for your gaming laptop and can also house either a compatible ASUS GeForce or Radeon graphics card allowing you to boost the graphics performance of your laptop.
That's the full lineup of Asus ROG products for 2016. Stay tuned for more news out of CES 2016.