AMD Ryzen™ 2nd Generation Review: featuring the AMD Ryzen™ 3 2200G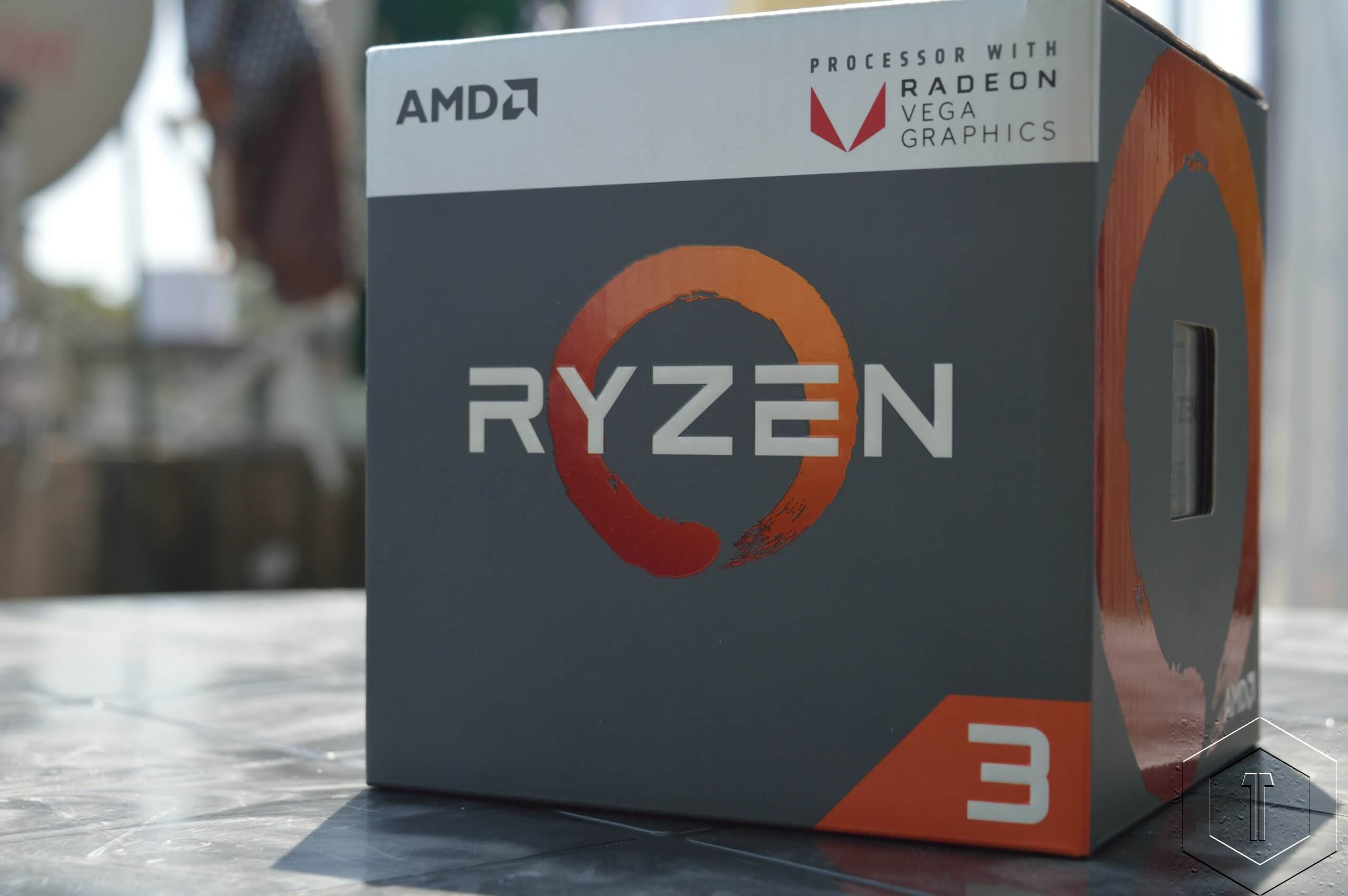 Back in July 2017, we looked at the 1st Generation of Ryzen processors in the form of the Ryzen™ 7 1700x and we were mighty impressed. We even gave it our Gold Award. AMD had hit a massive Six with the Zen architecture and in many ways forced Intel to ditch 4 cores for the High end and also move the industry forward.
But while CPU division of AMD was basking in glory, it's GPU division, Radeon Technologies Group was not as impressive. AMD released their much-hyped VEGA GPUs last year and let's just say they were not the best GPUs to hit the market.
Since 2014 AMD has pushed it's APU a Lot, basically a normal Ryzen CPU with Onboard GPU. Back in the day AMD's lacklustre FX cores really held back it's APUs and they were not very popular. However, Ryzen is a different beast altogether and so AMD decided to take a Ryzen 5 1400 and Ryzen 3 1200 and stick VEGA 11 and 8 respectively to create the Ryzen 5 2400G and Ryzen 3 2200G.
According to AMD Themselves "AMD Ryzen™ Processors with Radeon™ RX Vega Graphics are armed with some of the most advanced, powerful computing and graphics hardware available today, fused together in a single processor to deliver the high performance you need for demanding work and serious play, without compromise." After such claims were are curious to see what this CPU offers for sure.
[nextpage title="Product Profile"]Ryzen 3 2200 G comes in similar packaging as all other Ryzen CPUs except for the silver ribbon stating the fact that these CPUs also have included VEGA Graphics.
[nextpage title="Specs and Pricing"] The two APUs that AMD is launching is the Ryzen 5 2400G, a ₹12,900 14nm quad-core Zen processor with simultaneous multithreading and 'Vega 11' graphics, and the Ryzen 3 2200G, a ₹8,249.00 14nm quad-core Zen processor without simultaneous multithreading and with 'Vega 8' graphics. Both parts are distinguishable from the non-integrated graphics Ryzen processors with the 'G', which is similar to how Intel is marketing its own Vega-enabled processors.
AMD Ryzen 2000-Series APUs
Ryzen 5 2400G
with Vega 11
Ryzen 3 2200G
with Vega 8
CPU Cores/Threads
4 / 8
4 / 4
Base CPU Frequency
3.6 GHz
3.5 GHz
Turbo CPU Frequency
3.9 GHz
3.7 GHz
TDP @ Base Frequency
65 W
65 W
Configurable TDP
46-65 W
46-65 W
L2 Cache
512 KB/core
512 KB/core
L3 Cache
4 MB
4 MB
Graphics
Vega 11
Vega 8
Compute Units
11 CUs
8 CUs
Streaming Processors
704 SPs
512 SPs
Base GPU Frequency
1250 MHz
1100 MHz
DRAM Support
DDR4-2933
Dual Channel
DDR4-2933
Dual Channel
OPN PIB
YD2400C4FBBOX
YD2200C5FBBOX
OPN Tray
YD2400C5M4MFB
YD2200C4M4MFB
Price
₹

12,900

₹

8,249.00

Bundled Cooler
AMD Wraith Stealth
AMD Wraith Stealth
In our Review, we will be looking at the 2200G
[nextpage title="Test Bench"]The Testbench we are going to be used to measure the performance of this CPU is
SYSTEM 1
Motherboard: ASUS ROG STRIX B350 F Gaming
CPU: Ryzen 3 2200G/2400G
Cooler: Stock
Power Supply: Cooler Master V1000
RAM: G Skill Trident Z 3000 Mghz
Windows: Windows 10 Pro
GPU: Integrated
SYSTEM 2
Motherboard: ASUS ROG STRIX B350 F Gaming
CPU: Ryzen 5 2600
Cooler: Hyper 212X
Power Supply: Cooler Master V750
RAM: Corsair Value 2993 Mghz
Windows: Windows 10 Pro
GPU: ASUS Strix GTX 970 OC
[nextpage title="Synthetic Benchmarks"]So we pitted the 4 core Ryzen 3 against our Ryzen 5 to see how much of a Performance Degradation do we get when we put this ultra-affordable CPU in place of the much costlier 2600 and 2400G. Do note that since 2600 does not have an iGPU and since pitting the Integrated GPU with a GTX 970 would not be fair, we pitted it against the 2400G at Stock which was tested by XRIG.
CINEBENCH R15
The Industry standard at this point for comparing CPUs and how they will perform in real life tests.CINEBENCH is a real-world cross platform test suite that evaluates your computer's performance capabilities. CINEBENCH is based on MAXON's award-winning animation software Cinema 4D, which is used extensively by studios and production houses worldwide for 3D content creation.
From the above results, we can see that the 2200 G with its lower out of the box frequency is not that far behind the more expensive offerings. However, when the Multi-Threading of both the 8thread and the 12 Thread processor comes into play we see that there is a substantial gap between all 3 products.
GEEKBENCH 4
Geekbench is a cross-platform processor benchmark, with a scoring system that separates single-core and multi-core performance, and workloads that simulate real-world scenarios. The current version, Geekbench 4, uses scores that are calculated against a baseline score of 4000, which represents the performance of an Intel Core i7-6600U @ 2.60 GHz. The software benchmark is available for macOS, Windows, Linux, Android and iOS.
The 2200G really impressed me in this test, it's really not that behind the more expensive 2400G in this test and is turning out to be a very capable yet economical processor.
[nextpage title="Gaming Benchmarks"]So let's get into the good stuff. How capable is the VEGA 8 GPU in this thing? Please do note as stated earlier we are dropping the 2600 from these tests and focussing solely on the iGPU Performance of these APUs. All Tests at 1080P resolution.
CS: GO
Counter-Strike: Global Offensive (CS: GO) is a multiplayer first-person shooter video game developed by Hidden Path Entertainment and Valve Corporation. It is the fourth game in the Counter-Strike series and was released for Microsoft Windows, OS X, Xbox 360, and PlayStation 3 in August 2012, with the Linux version released in September 2014. This game runs on the Direct X 9 API and is decently easy to run.
With near 100 fps and over 110 once the VEGA 8 GPU is overclocked this processor can and is delivering very playable performance at Very High settings on CS GO. The 2400G hits a better 120 Fps for those high refresh rate monitors but you won't be losing much by choosing the 2200G either. Very impressive performance from the 2200G.
DOTA2
Dota 2 is a free-to-play multiplayer online battle arena (MOBA) video game developed and published by Valve Corporation. The game is the stand-alone sequel to Defense of the Ancients (DotA), which was a community-created mod for Blizzard Entertainment's Warcraft III: Reign of Chaos and its expansion pack, The Frozen Throne. DotA 2 runs on the updated Source 2 engine and supports API like Direct X 9, 11, Vulcan and Open GL.
Source 2 does not take too kindly to the stock Ryzen 3 compared to Source. DotA 2, unfortunately, falls below the 60 fps when the 2200G is not overclocked, however, once Overclocked 2200G is now neck in neck with the stock 2400G which is remarkable, to say the least. Another strong result for the Ryzen 3.
Overwatch
Overwatch is a team-based multiplayer first-person shooter video game developed and published by Blizzard Entertainment, which released on May 24, 2016, for PlayStation 4, Xbox One, and Windows. Described as a "hero shooter", Overwatch assigns players into two teams of six, with each player selecting from a roster of over 20 characters, known as "heroes", each with a unique style of play whose roles are divided into three general categories that fit their role. Overwatch runs on an engine developed in-house at blizzard and uses the Direct X 11 API.
Like every other title tested so far, the Ryzen 3 really shines when the GPU is Overclocked. At stock 60 fps is possible and once overclocked you are hardpressed to find any difference between the cheaper 2200G and the 2400G at stock.
FIFA 18
FIFA 18 is a football simulation video game in the FIFA series of video games, developed and published by Electronic Arts and was released worldwide on 29 September 2017 for Microsoft Windows, PlayStation 3, PlayStation 4, Xbox 360, Xbox One and Nintendo Switch. FIFA 18 uses the excellent Frostbite Engine and uses both DX 11 and 12.
Like the other tests done already, FIFA 18 also shows that with a decent OC on the VEGA 8 GPU one can achieve nearly as much performance as the Stock 2400G. Impressive stuff.
League of Legends
League of Legends (abbreviated LoL) is a multiplayer online battle arena video game developed and published by Riot Games for Microsoft Windows and macOS. The game follows a freemium model and is supported by microtransactions, and was inspired by the Warcraft III: The Frozen Throne mod, Defense of the Ancients. League runs on in-house made engine designed by Riot Games and uses DX 9 API.
For LoL, any config should be enough but we see the same trends yet again. Good stuff from the small guy to say the least.
[nextpage title="Final Thoughts and Verdicts"]Ryzen 3 2200G fuses the strengths of AMD's Zen and Vega architectures together into a highly integrated processor. Selling for a measly ₹8,249.00 it is certainly cheaper than a G4560 and GT1030 combo and performs very similarly. It is perfect for people looking to build ultraportable systems which can do light gaming as well. AMD has again impressed us how powerful this APU is for the price. VEGA discrete graphics may not have had the best launches but the cut-down variants are surely impressive to the point that Intel has started using them in their NUCs in place of its HD Graphics.
The Few Issues that I do still have is the fact even for such a low-end part you would need at least 3000 Mghz Ram to really not throttle this CPU. DDR4 prices are volatile right now and this is truly a problem for people looking to make a 2200G system. Pairing this bargain basement 2133 Mhz ram will result in inferior FPS.
Other than that issue, the 2200G is a solid product and should be on the radar of anybody wanting to make a PC for 20 to 25 Thousand Rupees and be able to play E-Sports and some light triple-A games.