Devinder Kumar AMD's CFO officially confirmed the release time line for Zen at Raymond James Technology Investors Conference which took place yesterday. AMD's Zen series will be coming to high-end desktops in 2016 retiring the AM3 based Vishera FX CPUs which were first released in 2012.
Rumors suggest that a number of stock keeping units are planned, with either four, six or eight cores. Not surprisingly, the Zen core is optimized in terms of size and power. AMD is putting a lot of effort into making sure that the Zen FX CPU takes a bite out of Intel's share, which is currently occupied by Skylake.
The chipset of Zen FX CPU will be based on AM4, something that the AMD designed to compete directly with features that Intel excels at. According to inside information from AMD, users will also find improved platform security features embedded in the upcoming hardware and will have support for DDR4.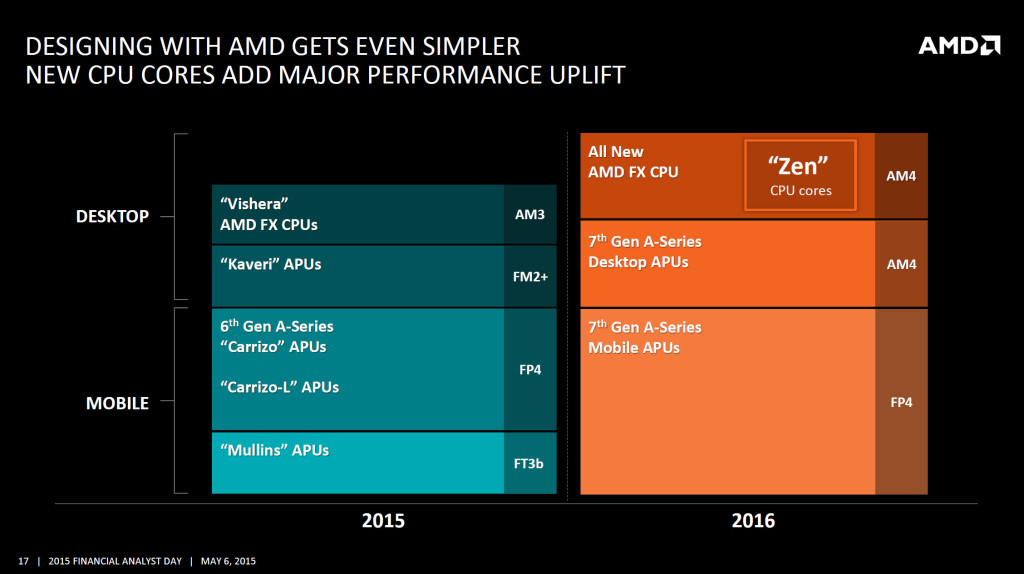 Hans Mosesmann, Raymond James & Associates financial analyst  :
And then lastly, comment on the longer term gross margin, operating margin goals timing?

Devinder Kumar, AMD CFO :
I think the key is getting through 2016 is to continue to stabilize the computing and graphics business, commercial, professional graphics embedded and even the high-end desktops with the Zen Core should all be accretive from a margin standpoint.  I'll be very disciplined from that standpoint and then obviously get into the 2017, 2018, 2019 time frame, we showed some long range target model assumptions across the board from a gross margin and profit standpoint and I think those are also pretty firm and we expect over the next three to five years we can execute to that, with execution on the graphics side of it, on the data center business, on the embedded and finally the new business that we expect on the semi-custom side of the house.
These rumors come on the heels of another rumor, a german tech publication got wind from a Motherboard manufacturer that we could see new AMD Zen based motherboards as early as March 2016, well ahead of the otherwise known Q4 2016 plan.
Following Zen's introduction into the desktop market, high performance Zen based sever chips will be rolled out. In addition to Zen AMD also has 14nm/16nm FinFET graphics chips scheduled to debut next year, so the majority of AMD's product stack will feature FinFET technology, excluding the Bristol Ridge APUs. AMD is finally taking the fight to Intel with their latest FX CPU's.