ADATA Premier Pro SP920 256GB SSD Review : Micron's 20nm MLC NAND resurfaces
Little over four years ago we had first news of 128Gbit, 20nm MLC NANDs from IMFT. Since then a lot of changes have come to the SSD Market. The 128 Gb 20nm MLC NANDs were poised to make the transition to ONFi 3 interface and bring aboard bandwidth of 333MT/s from earlier 200MT/s of ONFi 2.x, improving sequential read/write performance. Since then we have seen the 20nm MLC NAND make apperances in several prominent SSDs, and now with the increase in volume of these NANDs we are seeing other manufacturers refresh their existing lineup too.
ADATA's Premier Pro SP920 isn't a new entrant in the market since it has been introduced last year. What is interesting is that the SP920 is now on the top of their consumer lineup stack, and the only difference between this and the immediate next model, the SP910, is that the SP920 uses a Micron firmware, and a Marvell 88SS9189 controller, whereas the SP910 uses a custom firmware and the 88SS9187 controller. So in paper the SP920 looks like a refresh to the SP910, but in reality the SP910 is a newer model. I know, it's complicated.
Specifications, Visual Analysis:
Let's look at the specifications of the SP920:
Read/Write speeds across different capacities follow a similar curve as we see for SSDs. Optimal performance seems to be around the 512GB capacity mark.
As I said before, the SP920 uses Micron's 128Gbit 20nm synchronous MLC NAND. The 256GB model we are testing today has 16 NAND packages, 8 on each side of the PCB with single 16Gbit Dies per package alongside a total of 256MB of DRAM. Little is known about the controller, however. The Marvell 88SS9189 remains a mystery part as almost nothing is available about it online, but if we are to make any guesses from their 88SS9187 controller, it uses an upgraded CPU compared to the dual-core Marvell 88FR102 V5 CPU used in the 9187. The SP920 also supports NCQ/SMART commands.
The package is small and the front of it has a clear view of the SSD through a plastic covered see-through window. It also has ADATA branding, and features of the SP920 written on it. The back side, has more details written in several languages.
The in-box contents is also minimal, but ADATA includes a 3.5inch bracket to use the SSD in cases which may not have a dedicated SSD mount. It also contains a 2.5mm holder.
The SSD itself has a clean metallic finish with ADATA branding in front along with the capacity.
The rear section has information like serial number, batch number, and the key for Acronis True Image HD (a software included with the SSD).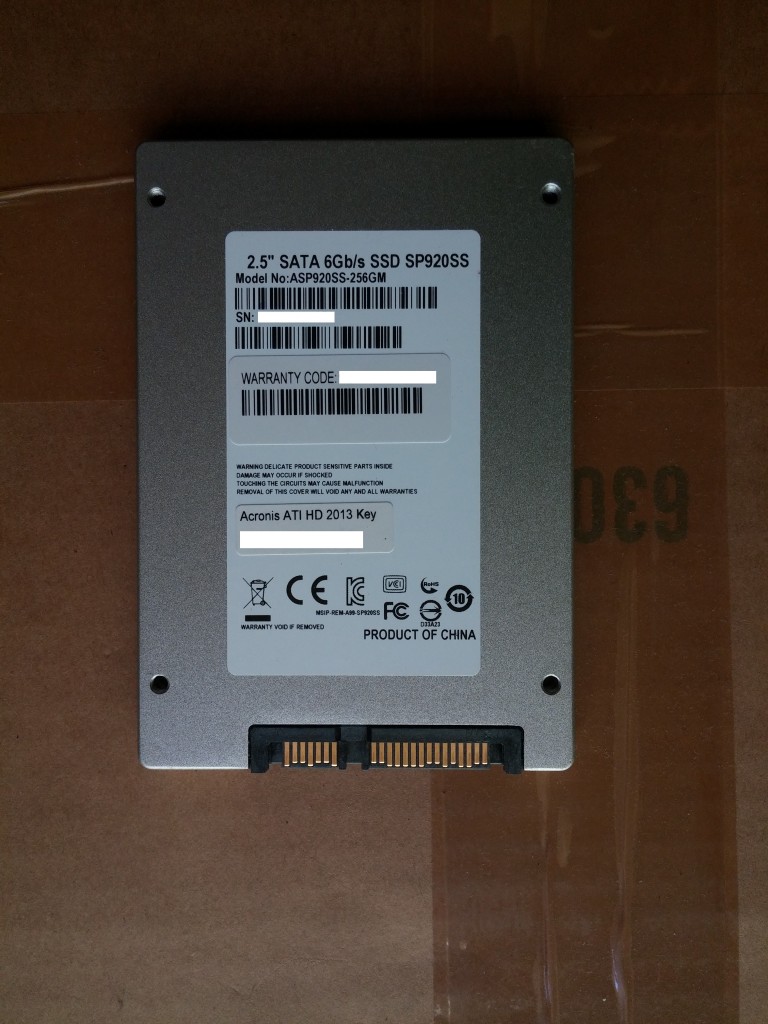 The SP920 is 7mm thick and should fit in all with SSD mounts. The SATA power/data connectors are on one side of the SSD, close to each other.
Test Setup, Performance:
I tested the ADATA SP920 in the following system:
Intel Core i7-4770K, Haswell, 4C/8T, 3.5GHz base/3.9GHz Turbo
ASUS Maximus VII Hero Z97 Motherboard
Kingston HyperX Beast 8GB DDR3-1600 Memory, CL9-9-9-27
ADATA SP920 Premier Pro SSD
HIS AMD Radeon HD6870 GPU, 1GB GDDR5, Catalyst Omega drivers
Western Digital Caviar Green 3TB for data drive
Cooler Master Nepton 240M AIO liquid cooler for CPU cooling
Cooler Master Silent Pro M1000W Power Supply
Corsair Carbide Air 540 case
Anvil's Storage Utilities is an assortment of storage benchmarks which tests the hardware with different scenarios for peak read/write speeds.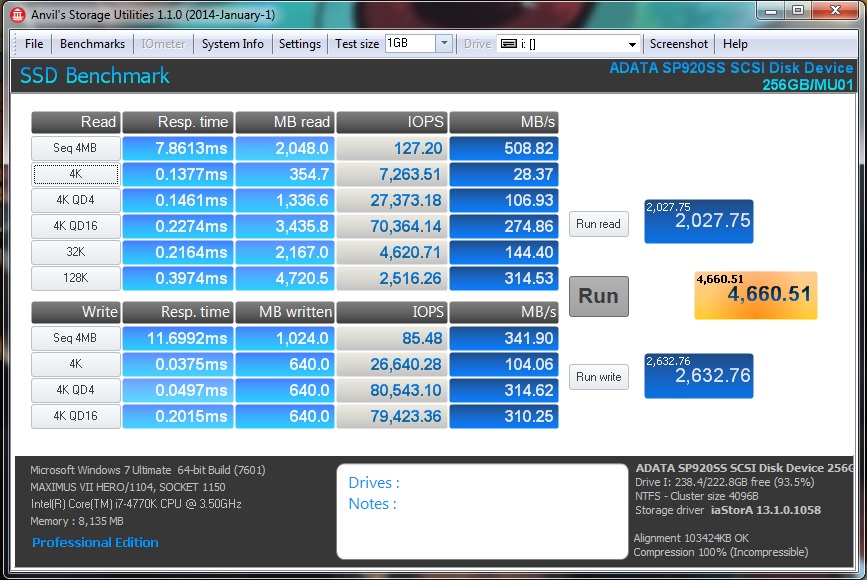 ATTO Disk Benchmark is another popular benchmark with user-selectable transfer sizes from 512KB to 8MB, transfer lengths from 64KB to 2GB and support for overlapped I/O and a variety of queue depths.
AIDA64, FinalWire's system monitoring and benchmark tool has a separate disk benchmark tool which measures performance for different scenarios.
Lastly, CrystalDiskMark. The scores do reach advertised read/write speeds by ADATA, which is a good sign.

Conclusion:
Launched one year back, ADATA's Premier Pro SP920 is an interesting proposition. With performance that puts it solidly on the upper middle level of available SSD options, price becomes a key factor here. Also, since the combination of Micron's 20nm NAND and Marvell's controller is fairly common across many manufacturers, the performance difference between two similarly priced SSDs maybe much closer than we imagine, making it harder for consumers to choose between them. Then it comes to after sales support and added goodies in the bundle. ADATA includes a full version of Acronis True Image HD software as added sprinkles on top, and some websites are also running promotions (or, were running) where they were giving USB thumb drives free with the purchase of ADATA SSDs, so this makes the impression that ADATA is serious about this segment.
The most fierce competition comes from previous generation SSDs from Samsung and Crucial who still represent comparable performance and with recent price drops have grown in value as well. I am hopeful that ADATA will refresh their Premier Pro lineup pretty soon so we'll be seeing further performance improvements along the line. But until that comes, as an overall package, the SP920 is a pretty good value.