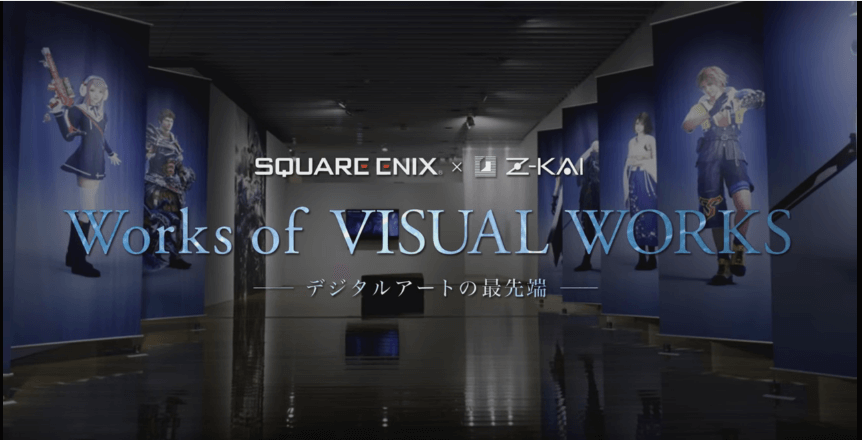 A short history of Visual Works :
Initially created by Squaresoft to develop the C.G.I for Final Fantasy VII, which released in 1997. They went on to develop the C.G.I for many more Squaresoft games in the late 90s and early 2000. But in 2001 they hit a wall, when Final Fantasy : The Spirits Within, the film developed by them failed on a critical and commercial level.
Visual Works later became part of Square Enix, and over the years has produce C.G.I for various games, as well as some films (such as Final Fantasy VII: Advent Children), for Square Enix and its first-party studios, including Square, Enix, Taito, Eidos and Crystal Dynamics.
The exhibition :
Over the years Visual Works work has helped shape the very identity of the various iconic games, from the legendary Final Fantasy franchise to Dragon quest, Deux-Ex ( Human revolution ) and even Tomb Raider ( 2013 ). Square Enix is celebrating this rich legacy by showcasing the original art used for making and production of the C.G.I for the games and movies in an exhibition being held from 26 March ( 2016 ) to 31 August ( 2016 ) at the Ooka Makoto Kotoba Museum (Mishima, Japan).
The attractions :
1. Original art : The art from the various video games that was created by the studio will be displayed, along with the never before seen art. Videos on the history of the work that has been produced will also be available for viewing.
2. Overview on the production process : Detailed overview of the production process of the studio will also be showcased.

3. Motion capture : An exhibit solely showcasing the process of motion capture will also be present. The exhibit itself will a smaller reproduction of the actual Motion Capture Studio at Visual Works.

4. Life-sized props : Various life-sized props and models, such as Judge Master (FF-VII), Buster Sword (FF-VII), that were used in the production of C.G.I will also be displayed.
5. Meet and greet : Interviews and opportunity to meet the production staff will also be present.
6. V.R experience : Visitors will also be treated to a virtual reality experience during the final days of the exhibition.
7. Merchandise : Various, franchise related merchandise will also be sold at the exhibition including exhibition brochures, posters and many other things.

Here is the link to a trailer about the exhibition that Square Enix released on 31 of May.
https://www.youtube.com/watch?v=rjYgHctVZSI
A student of English Honours, with a passion for tech, gaming and fitness and an indomitable spirit to learn and grow in every aspect.