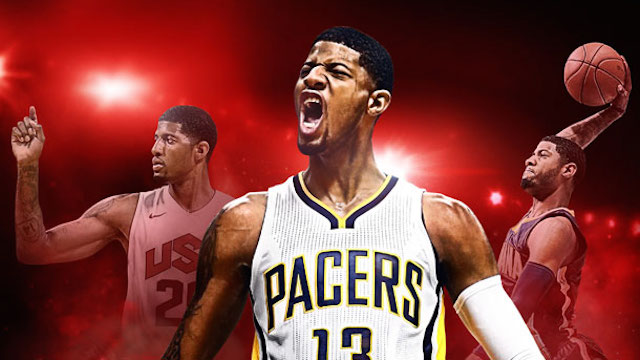 Three-time NBA All-Star and one of NBA 2K's most passionate gamers caps remarkable comeback season by ascending to the forefront of acclaimed franchise, being featured on the cover of the upcoming NBA 2K17.
2K yesterday announced Indiana Pacers All-Star shooting guard Paul George as cover athlete of NBA 2K17, the next iteration of the top-rated and top-selling NBA video game simulation series*, which will be available on September 20. The selection of George marks his first solo appearance on the cover of NBA 2K, paralleling his explosive return to the court, during which he averaged a career-best 23.1 points per game during the 2015-16 NBA regular season.
"I have been playing NBA 2K as long as I can remember, and to be honored as cover athlete of NBA 2K17 is a blessing and vote of confidence that my hard work on and off the court has paid off," said Paul George, who also led his team to a 2015-2016 NBA playoff berth. "I'm excited to partner with 2K and hope to help take the franchise to the next level".
Long known as one of NBA 2K's most passionate gamers, George has an extensive history with 2K, having served as the cover star of MyNBA2K16's Companion app, and as guest commentator at the NBA 2K16 Road to the Finals US$250,000 championship which occurred on June 1. As part of his global partnership with 2K, George will also serve as the cover athlete for NBA 2K Online in China.
"Each year the NBA 2K franchise continues to grow, but our focus has always been about creating an experience that resonates with our most passionate fans," said Alfie Brody, vice president of marketing for NBA 2K. "Paul is a natural fit for the cover and a true embodiment of what we represent and bring to the table for gamers and basketball fans alike."
To celebrate, 2K today also revealed the return of NBA 2K Early Tip-Off Weekend, putting the full game into hands of fans four days ahead of the scheduled street date on September 20. Fans can pre-order NBA 2K17 at participating retail vendors, Steam Store and Xbox Marketplace, ensuring they receive their copy beginning on Friday, September 16, four days ahead of the game's September 20 street date, along with in-game digital content including:
 5,000 Virtual Currency;
 MyTEAM Bundle (includes 3 packs with guaranteed Paul George Free Agent card);
 And, more to be revealed at a future date.
The NBA 2K17 Standard Edition will be available in both digital and physical formats for Rs. 3,499 on PlayStation®4 and Xbox One. PlayStation 3 and Xbox 360 is for Rs. 2,499 while PC is priced at Rs. 2,499 as well. You can pre-order here.
2K previously announced that the NBA 2K17 Kobe Bryant Legend Edition, celebrating the storied career of the recently retired Lakers icon, will be available in digital and physical formats for Rs. 4,499 on PlayStation®4 system and Xbox One.
---
Developed by Visual Concepts, NBA 2K17 is not yet rated by the MDA.
Follow @NBA2K on social media and look for the hashtag #ThisIsNotAGame for the latest NBA 2K17 news.
*According to 2008 – 2016 Metacritic.com and The NPD Group estimates of U.S. retail video game sales through April 2016.
2K is a publishing label of Take-Two Interactive Software, Inc.
Online Account (13+) required to access online features. Read here and here for additional details.
---
About Take-Two Interactive Software
Headquartered in New York City, Take-Two Interactive Software, Inc. is a leading developer, publisher and marketer of interactive entertainment for consumers around the globe. The Company develops and publishes products through its two wholly-owned labels Rockstar Games and 2K. Our products are designed for console systems and personal computers, including smartphones and tablets, and are delivered through physical retail, digital download, online platforms and cloud streaming services. The Company's common stock is publicly traded on NASDAQ. For more corporate and product information please visit our website.
---
About 2K
Founded in 2005, 2K develops and publishes interactive entertainment globally for console systems, handheld gaming systems and personal computers, including smartphones and tablets, which are delivered through physical retail, digital download, online platforms and cloud streaming services. 2K publishes titles in today's most popular gaming genres, including shooters, action, role-playing, strategy, sports, casual, and family entertainment.
The 2K label has some of the most talented development studios in the world today, including Firaxis Games, Visual Concepts, Hangar 13, Cat Daddy Games and 2K China. 2K's stable of high quality titles includes the critically acclaimed BioShock®, Borderlands™, and XCOM® franchises, the beloved Sid Meier's Civilization series, the innovative Evolve™, the genre-fusing hero-shooter Battleborn®, the popular WWE 2K franchise and NBA 2K, the #1 rated and #1 selling basketball franchise. 2K is headquartered in Novato, California and is a wholly owned label of Take-Two Interactive Software, Inc. (NASDAQ: TTWO). For more information, please visit 2K.
I started gaming with Minesweeper on my dad's office computer that ran Windows 95 and have been hooked since. I've spent many hours on classics like Wolfenstein 3D and today, I spend several more on games like Deus Ex, Darksiders, Just Cause and keep a special place in my heart for BioShock and Metro 2033. I may have a background in computer science, but I aspire to write and direct a film adaptation of S.T.A.L.K.E.R.: Shadow of Chernobyl and Call of Pripyat one day. I love cats, cooking and light, soothing music. Huge Godzilla fan.