GTX 950 : the younger one
The lower end of the GPU market spectrum is an interesting place, while the GPU makers hardly pays any attention to it the majority of the revenue comes from that so called "low end" area. That being said the lower end is not completely forgotten by the manufacturers completely, the card we have for review today is a new entrant in the low end arena : the GTX 950 from Nvidia
NVIDIA GPU Specification Comparison
GTX 960
GTX 950
GTX 750 Ti
GTX 650 Ti
CUDA Cores
1024
768
640
768
Texture Units
64
48
40
64
ROPs
32
32
16
16
Core Clock
1126MHz
1024MHz
1020MHz
925MHz
Boost Clock
1178MHz
1188MHz
1085MHz
N/A
Memory Clock
7GHz GDDR5
6.6GHz GDDR5
5.4GHz GDDR5
5.4GHz GDDR5
Memory Bus Width
128-bit
128-bit
128-bit
128-bit
VRAM
2GB
2GB
2GB
1GB
FP64
1/32 FP32
1/32 FP32
1/32 FP32
1/24 FP32
TDP
120W
90W
60W
110W
Architecture
Maxwell 2
Maxwell 2
Maxwell 1
Kepler
GPU
GM206
GM206
GM107
GK106
Transistor Count
2.94B
2.94B
1.87B
2.54B
Manufacturing Process
TSMC 28nm
TSMC 28nm
TSMC 28nm
TSMC 28nm
Launch Date
1/22/2015
8/20/2015
2/18/2014
10/9/2012
Launch Price
$199
$159
$149
$149
Diving into specifications, with the GTX 950 what we essentially have is a cut down version of the GM 206 which is present in GTX 960. GTX 950 loses one-quarter of its SMMs – going from 8 to 6 – bringing the CUDA core count down from 1024 to 768 with the memory bus/ROP clusters left intact, with 32 ROPs connected to a 128-bit GDDR5 memory bus.
Coming to the clock speed, the GTX 950 didnt took much of a cut with respect to the GTX 960, we see a wider delta between base clock and boost clock with a 1024MHz base and 1188MHz boost and a little cut on the memory clock from 7GHz to 6.6GHz whicH is more to create an artificial distinction since nobody ships a 6.6GHz GDDR5 speed grade as far as I know.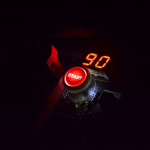 Lawyer by day, Overclocker and reviewer by night, and a sniper in weekends.