Fifa 17 will be featuring Frostbite engine for the first time. Yes, you heard it right. E3 is just round the corner and EA revealed the biggest announcement for die hard fifa fans today. After using Ignite engine for past 3 years ( Fifa 14, Fifa 15, Fifa 16) Ea now ditching it and using their most graphically advanced engine ever, Frostbite. The reveal trailer which was released yesterday with a tagline "Football has changed" showed the glimpse how Fifa evolved since its birth. Here is the new reveal teaser:-
As you can see there is not much more to cherish except immensely detailed Eden Hazard and some mocap shots which actually justifies the tagline. Bringing Frostbite to Fifa is definitely a bold step from EA as Fifa is widely known to serve everyone, be it budget build or monster rigs. How it affects the gameplay is yet to be seen but as of now it looks like June 12 will be a big date for us and the company as EA play will take stage on the very same date to reveal much more about Fifa 17 and upcoming projects. Fifa 17 gameplay will be revealed on June 12 2016 and the game will be available globally from 29th September On Xbox one, Ps4, Xbox 360, Ps3 and Pc.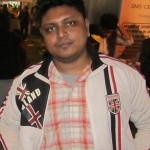 Lead Reviewer and Editor in Techarx Gaming Department.A gamer since the age of 13.An animator in professional life.