Kingston, one of the world's premier memory manufacturer, has often produced some very fancy looking USB drives. They seem to acknowledge the fact that the flash drive shouldn't be an all business affair but should also reflect user sentiments. To keep with this theme, for this Diwali, they have unveiled a Limited edition 24 carat gold plated DataTraveler GE9 USB drive. The color gold is to signify wealth: since Diwali/Dhanteras is a festivity of prosperity and wealth. The USB 2.0 (yes, sadly) drive has an image of Lord Ganesha, the deity of prosperity, engraved on it.
Commenting on the announcement, Mr. Vishal Parekh, Marketing Director, Kingston Technology – India said, "With Diwali being just around the corner, consumers are in the festive spirit and on the look for unique gifts for their loved ones. So, to be a part of their happiness, we are glad to introduce a limited edition gold plated drive with Ganeshji engraved on it. We are sure that the Indian market will be receptive to this sleek drive."
This is designed by Arman Emami, a famous industrial product designer and inventor. This limited edition DataTraveler GE9 USB drive is now available at all leading online and retail stores for an MRP of Rs. 700. It is also backed by a 5-year warranty, free technical support and Kingston's legendary reliability.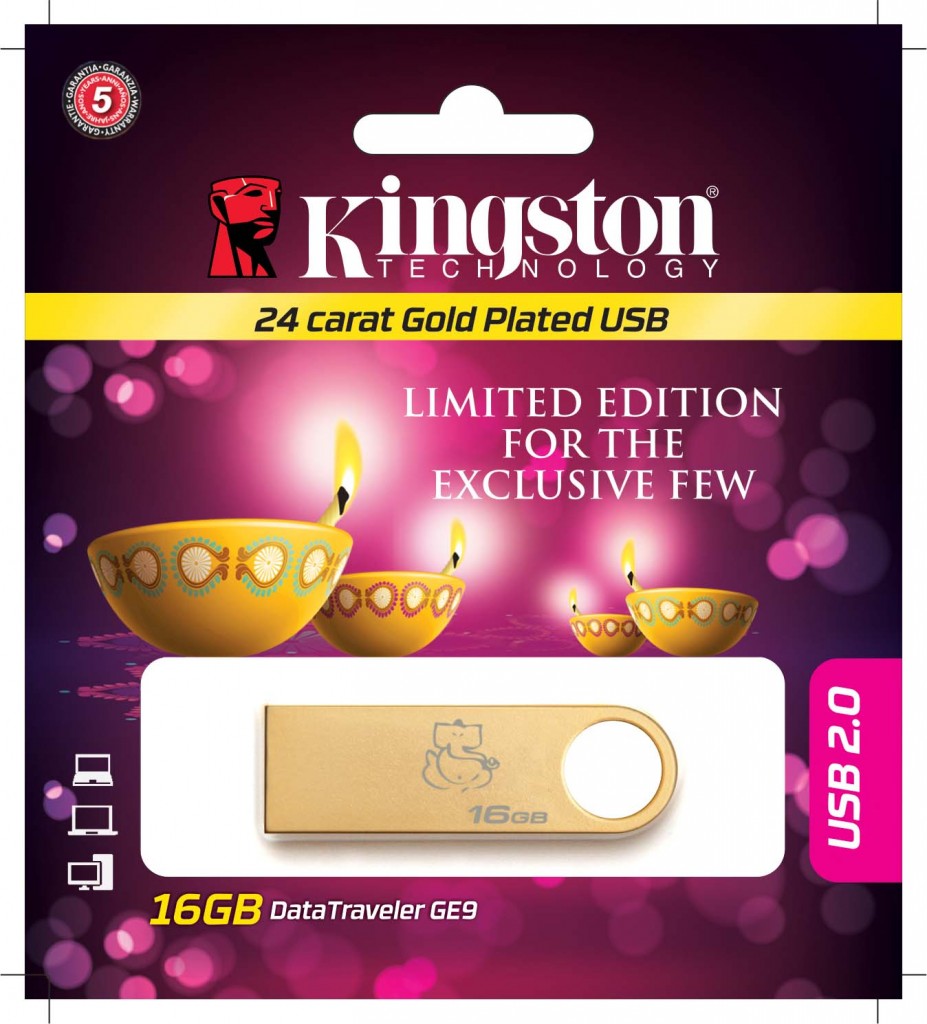 Key Features:
· Capacity Available: 16GB
· Stylish — ultra-thin, gold metal finish
· Award-winning design — makes the right impression with its superior design (Red Dot design award)
· Convenient — small, capless and pocket-sized for easy transport
· Dimensions 1.535″ x 0.486″ x 0.179″ (39.00mm x 12.35mm x 4.55mm)
· Compatibility – Supports Windows® 8.1, Windows 8, Windows 7, Vista® & Mac
· Guaranteed — peace of mind with 5-year warranty and free technical support
Certified madman, reviewer, dreamer and storyteller. Did I miss adding 'a self-loathing narcissist'?