Gigabyte today announced the availability of BRIX Ultra Compact PC Kit in India.
Coming in multiple flavors , all the models of BRIX are dual display enabled and Vesa compliant so the models can be mounted anywhere and used in multiple scenarios besides as a HTPC.
Currently the following models are available in India
GB-BXBT-2807: The GIGABYTE BRIX GB-BXBT-2807 features an Intel® Celeron™ N2807 Dual core processor which is capable of clocking up to 2.16 GHz. It can accommodate up to 8 GB of SO-DIMM DDR3L RAM, and a 2.5″ SSD or HDD. Priced at around 10,500
 GB-BXi3H-5010: The GIGABYTE BRIX GB-BXi3H-5010, which supports the 5th generation Intel® Core™ i3-5010U (formerly Broadwell) processor, is clocked at 2.1 GHz. It comes with an mSATA slot for up to 256GB of internal storage and an M.2 slot which is occupied by the 802.11 ac Dual Band Wi-Fi & Bluetooth 4.0 card. Priced at around Rs 23,000
GB-BXi5H-5200: This model supports the 5th generation Intel® Core™ i5-5200U (formerly Broadwell) processor. It features the Intel® HD Graphics 5500 IGP (Integrated Intel Graphics Processor) that drives the HDMI and Mini Display Port to stunning resolution outputs of 4096 x 2304 @ 24Hz and 3840 x 2160 @ 60Hz respectively. Price at around Rs 32,000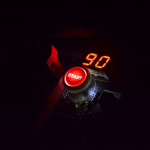 Lawyer by day, Overclocker and reviewer by night, and a sniper in weekends.