One of the main complaints of Cooler Master's previous Closed Loop AIO Liquid Coolers was how noisy the bundled fans were. While both the coolers performed well, the noise that the fans produced was a reason for many not to consider them while building a system or upgrading their existing cooling solution. Cooler Master acknowledged this problem, and instead of an immediate refresh of the CLC units, they decided to wait and do some ground work. During the entirety of 2013/14 we saw very few new cooling products come out of their stable. In a meet during that time we asked their team about the hiatus, and their reply was that they were experimenting with different prototype designs for CLCs and fans. Due to being under strict NDA that time we hardly got any information, but today we have the fruit of those months of being dormant: the Nepton 120XL and 240M. With the Nepton 120XL and 240M Cooler Master is introducing their new Silencio FP120 fans alongside incremental improvements to the radiator/pump assembly. Silencio is Cooler Master's take on silence optimized, high static pressure fans. While they are bundled with the AIO units, Cooler Master plans to sell them separately as well in future. This is due to the increasing demand for fans like these as more and more PC users are opting for some form of liquid cooling, be it closed loop AIO or a full-custom solution.
With the Nepton units, let's summarize what Cooler Master is aiming to do.
1. To provide silent yet high static pressure fans.
2. To increase the liquid flow throughout the unit without substantially increasing the pump noise/vibration levels.
3. To increase the overall surface area of contact/dissipation.
In this review we will be taking a look at the AIO cooling unit in whole as well as the Silencio FP120 fans. I will be swapping out the fans on the Nepton 240M to install a couple of other fans I have and notice the performance changes.
Before we jump into things, let's look at the complete product specification for Nepton 240M:
Model

RL-N24M-24PK-R1

CPU Socket

Intel LGA 2011-3 / 2011 / 1366 / 1150 / 1156 / 1155 / 775
AMD Socket FM2 / FM2+ / FM1 / AM3+ / AM3 / AM2+

Dimensions

75 x 69.7 x 49.1 mm (3 x 2.7 x 1.9 inch)

Radiator Dimensions

274 x 119 x 27 mm (10.8 x 4.7 x 1 in)

Radiator Material

Aluminum

Fan Dimensions

120 x 120 x 25 mm (4.9 x 4.9 x 1 inch)

Fan Speed

800~2400 RPM (PWM) ± 10%

Fan Air Flow

16.5 – 76 CFM (28 – 128 m3/h) ± 10%

Fan Air Pressure

0.48~4.8 mmH2O

Fan Life Expectancy

160,000 hours

Fan Noise Level

6.5~27 dBA

Fan Bearing Type

Loop Dynamic Bearing (LDB)

Fan Connector

4-Pin

Fan Rated Voltage

12 VDC

Pump Life Expectancy

70,000 hours

Pump Noise Level

< 15 dBA

Pump Rated Voltage

12VDC

Pump Power Consumption

4.8W

EAN/UPC Code

4719512047774 / 884102026744
The Nepton 240M box is moderately big. The front of the box has a clear, nice image of the unit itself as well as key features and warranty information.
The back side has multilingual description of feature sets and a small comparison graph with other coolers.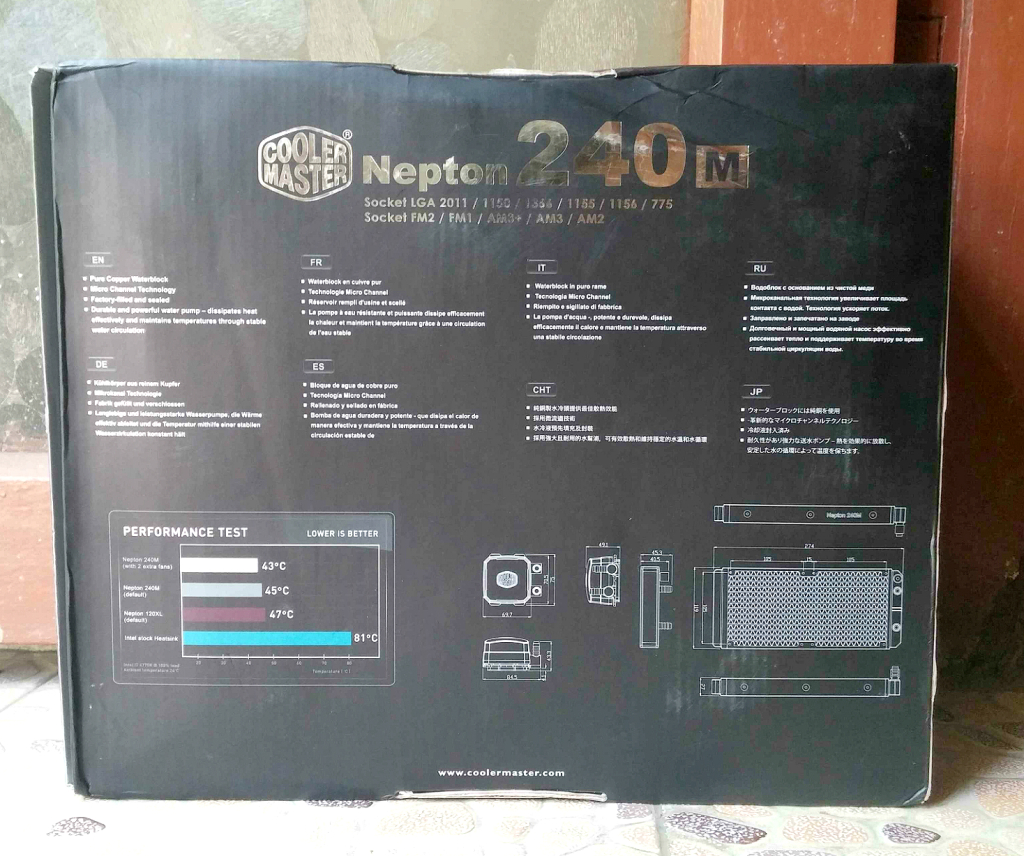 Inside, the whole unit is neatly cushioned. Unlike Swiftech's AIO units, Cooler Master doesn't preinstall the fans on the radiator, but that is a hassle most of us don't mind.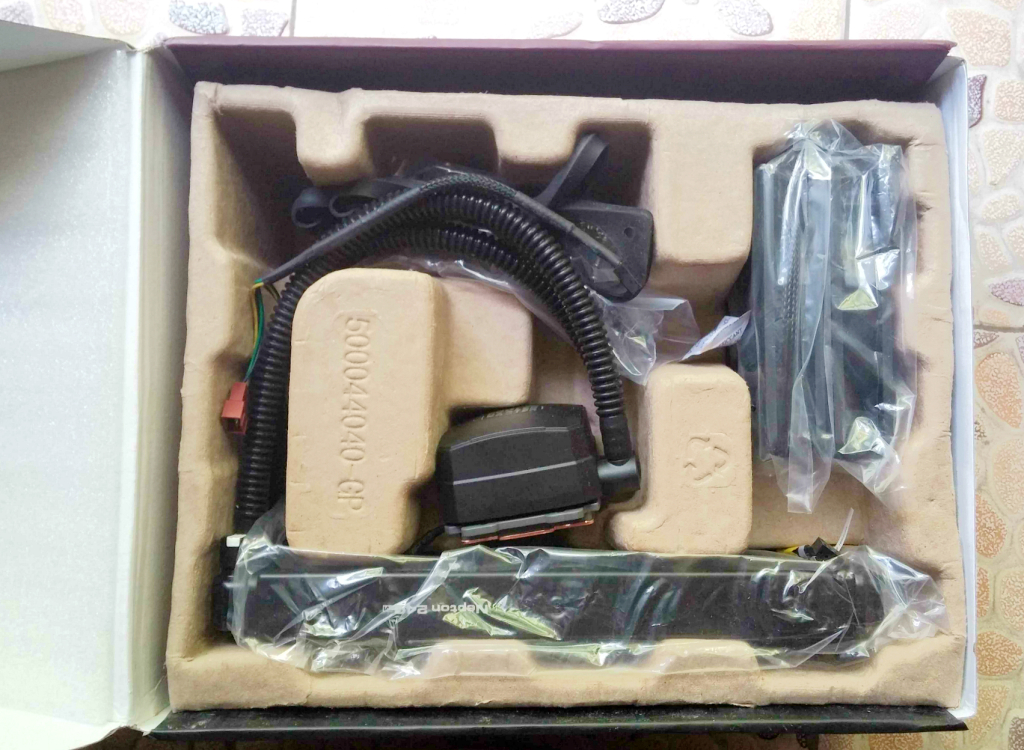 Package Contents:
The package contains:
• Nepton 240m cooling unit (Radiator/Pump assembly)
• Mounting kit for all modern Intel/AMD sockets
• 2 Silencio FP120 fans
• Fan and radiator mounting screws
• Rubber anti-resonating gasket
• Thermal compound
• Quick Start Guide, Warranty information booklets
• A fan splitter cable
Radiator: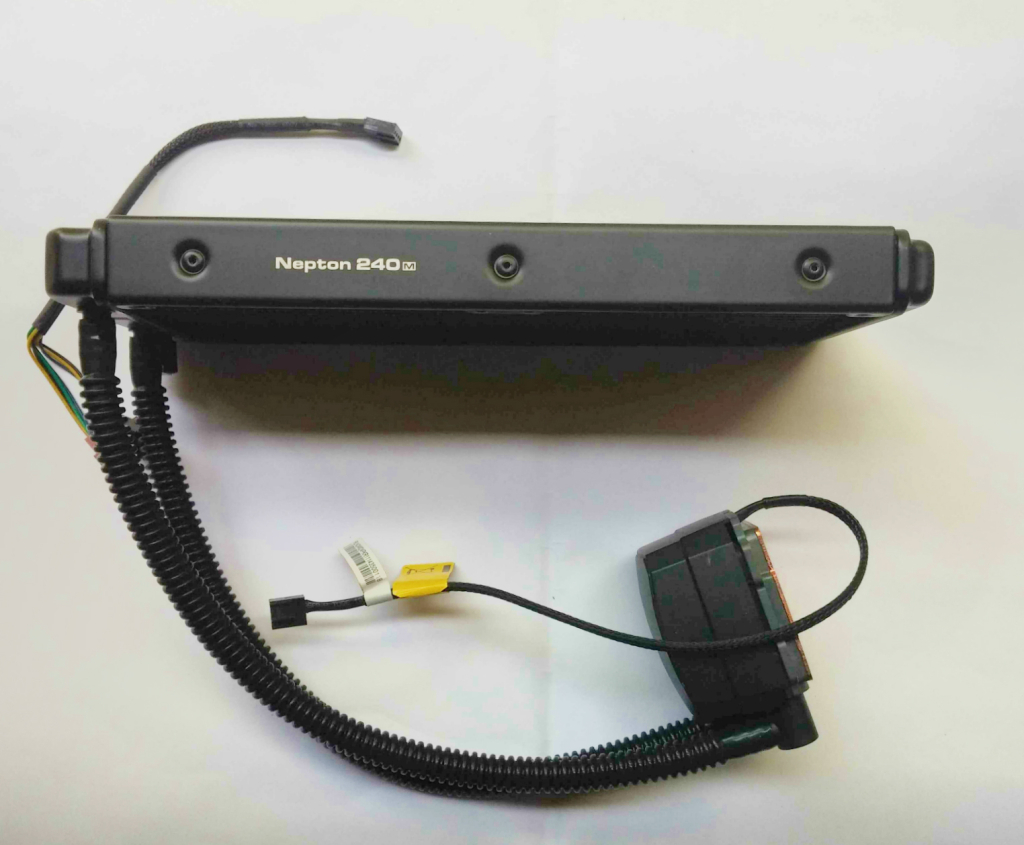 The radiator is an aluminum-made, 27 mm thick affair with medium fin density. The thickness of the radiator enables maximum compatibility with most cabinets since most of the computer cases with top radiator support do not have the mount points offset with respect to the motherboard. The standard thick radiator should provide enough cooling potential for most purposes. The radiator also contains a nozzle to refill the coolant.
CPU Block/Pump:
The CPU block has a substantially large copper base. The base measures 62.4×52.4 mm and features a skived fin area of 32000 mm2. Cooler Master is using Jet Impingement Cooling Method to dissipate heat in the CPU block. In this technique, the coolant is flown through a small orifice to form a jet and that jet is directed towards the CPU block. In theory, this method can remove large heat fluxes, but we will see in the review how effective this method is in the Nepton 240M.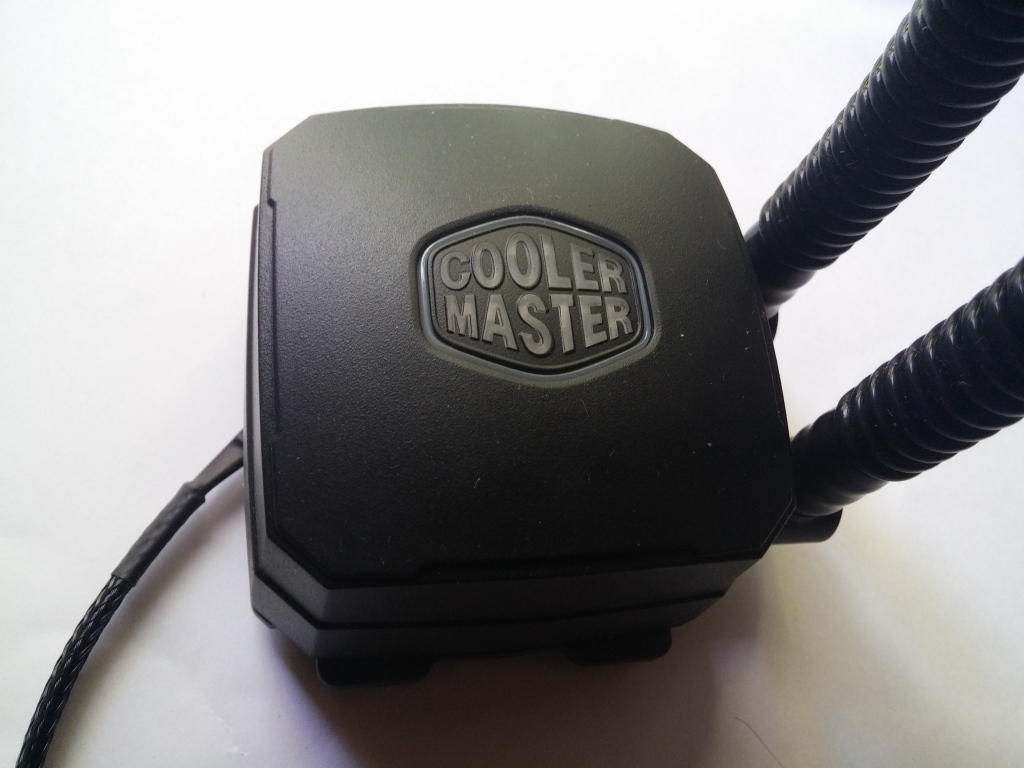 Cooler Master has also upgraded the pump in the Nepton 240M to a 120 lph unit for increased flow while cutting down the vibration to 10 mg. This ensures that the pump noise is kept at a minimum (Cooler Master says < 15 dBA) while providing better cooling performance. The pump has an MTBF of 70,000+ hours.
The CPU Block/Pump assembly has a Cooler Master logo in the front which lights up white once powered on. I would have loved this to be RGB, and user controllable, but at least it doesn't look gaudy, and I think most of us can live with this.
Tubing:
With Nepton 120XL/240M, we see Cooler Master reusing FEP tubing (FEP = Fluorinated Ethylene Propylene). The diameter has been increased this time to allow more coolant to flow through. FEP tubing does feel a little stiffer but it has more kink resistance. As for the aesthetics, it looks old school, but that is my personal opinion.
Silencio FP120 Fans:
Two fans are bundled with the Nepton 240M unit. The fans are called Silencio, and represent a new fan SKU for Cooler Master. The FP120 is a PWM controllable fan which operates at 800-2400 RPM, and can dish out static pressure of up to 4.8mmH20. The airflow is rated up to 76CFM, and the noise level is maxed at a respectable 27 dBA. The fans use Looped Dynamic Bearing and consume 4.8W of power (12v, 0.4A).
Installation:
Installation is fairly easy. The same backplate provided can be used for both AMD and Intel sockets (except socket 2011). The backplate uses caps to hold the nuts in places and one needs to screw in proper brackets in the CPU block itself before installing it on the motherboard.
Once installed the setup looks clutter-free. I've put in a pic of the Nepton 240M installed in a Carbide Air 540. Pardon the dusty fans.
Test System:
– Intel Core i7-3930K, 6C/12T, 3.2 GHz stock, 3.8 GHz turbo, socket 2011
– Cooler Master Nepton 240M CPU Cooler
– ASUS Rampage IV Extreme, BIOS 4403
– GSKILL RipJawsZ 16GB DDR3 RAM, 1600MHz, 11-11-11-28 CR1
– HIS AMD Radeon HD6870, Barts, 900/1050 MHz
– Kingston SSDNow V300 64 GB SSD, boot drive
– Gigabyte Superb E620 ( My trusty Corsair HX750 started having problems, so I borrowed another PSU temporarily)
– Corsair Carbide Air 540
– Fans : Silverstone Air Penetrator AP121WL, Scythe Gentle Typhoon AP15 1750 RPM
Performance:
Let's look at how the unit performs out of the box. I connected the pump to CPU_OPT header of the motherboard, and used the Y splitter provided with the package to connect both the fans, and connected the other end to CPU_FAN header. The overclock used in the system was a quick and dirty one using multiplier setting in the UEFI, and while this chip can attain 4.5 GHz at lower voltages, I kept it at that since this setting generated more heat and worked as a tougher challenge for the Nepton 240M. I also used ASUS' Fan Xpert to test the cooling potential of the Nepton 240M at 100%, 50% and 20% fan RPM settings. For loading scenarios I used various programs ranging from 3D Particle Movement Benchmark to the notorious Prime95 small FFT torture test.
The results are impressive. At stock, even when the fans are running at 20% of their maximum RPM, the temperature doesn't go beyond 61C on load. At 100% the load temperatures at stock is lower than 50C, and on 50% RPM settings that is only increased by 8 degrees to 55C.
At 4.5 GHz, the Sandy Bridge – E processor generates a lot more heat, and the 20% RPM setting is having a hard time keeping the 3930K cool under 100% load. It still manages to keep it under 75C. Jacking the fan speeds to 100% shaves 8C off the load temperatures, but on a moderate 50% setting the temperatures are just north of 70C and that is pretty good for a 240mm cooler.
I do need to mention here that apart from the impractical 100% RPM setting which I used just for the sake of testing, the fans are very quiet. The pump also remained tame during most of our testing and did not generate any perceivable noise whatsoever.
To see how good the Silencio FP120 fans are, I pitted them with some of the veterans of the game. The Scythe Gentle Typhoons are considered legends by the liquid cooling aficionados, and the Silverstone Air Penetrators have pushed their Fortress and Raven series of cases to cult status. Let's see how the new kid in the block performs against them. Since these fans were non-PWM controllable, I used the 100% RPM fan setting to compare their performance. While it does not represent an ideal scenario, it should give a fair idea of what each fan is capable of.

The Silencio FP120s have a hard time against the AP15s. Apart from a surprise victory on load temperatures at stock speed, the AP15s are better across every scenario, even when running almost 27% slower. The difference is a brutal 11C during load testing in overclocked settings.
The AP121WLs manage to beat the FP120s as well. This hurts the FP120s more since the AP121s are running at almost half the RPM of the FP120s and still produce better temperatures. But the competition is much close here and at 100% speed, neither the AP15s nor the AP121s runs as silent as the FP120s.
Conclusion:
It's not often when a manufacturer go back to the drawing board and come out with something genuinely impressive. With the Nepton 240M, Cooler Master is showing their intent of actually listening to user feedbacks and working on them. Catering to the elephant in the room when it comes to CLC – operating noise, we see a focus on the philosophy of the 240M to reduce noise: from the low vibration of the pump to the near silent fans. Then there are some performance upgrades too. The pump is now stronger, the CPU block has wider skived fin arrays and the FEP tubing is wider to allow more coolant flow. The Silencio FP120 fans are immensely better than any fans Cooler Master previously bundled with their CLC units. The ease of installation and the standard thick radiator ensures maximum compatibility and lower usability curve. The aesthetics are pleasing and the white led-lit logo on the CPU block is a nice touch.
The performance is great across the board too. Even lowering the fan RPMs to a ridiculous, near silent 20%, the load temperatures of a 4.5GHz i7-3930K didn't cross 75C – that is a feat by itself.
While the FP120s had a hard time against Gentle Typhoon AP15s and Air Penetrators, the performance and noise ratio was admirable and should keep most users happy.
I would like to see Cooler Master take the risk and produce a thicker 240mm radiator which should definitely improve cooling performance even more. Also on the wish list is the addition of a RGB led lit logo and user controllability on the color choice.
The Nepton 240M isn't a groundbreaking product, but it is a vast improvement over Cooler Master's previous CLCs. It is a step towards the right direction for Cooler Master. The revolutionary CLC that they are after is only a few paces away if they continue to innovate and improve, and most of all give preference to user feedbacks.
Thanks to Cooler Master India for providing me with this review sample.
Certified madman, reviewer, dreamer and storyteller. Did I miss adding 'a self-loathing narcissist'?