ASUS ROG GX800 is an upgraded version of the company's GX700, featuring even more powerful specifications and of course that removable watercooling solution that will help you get the most of your overclocking activities.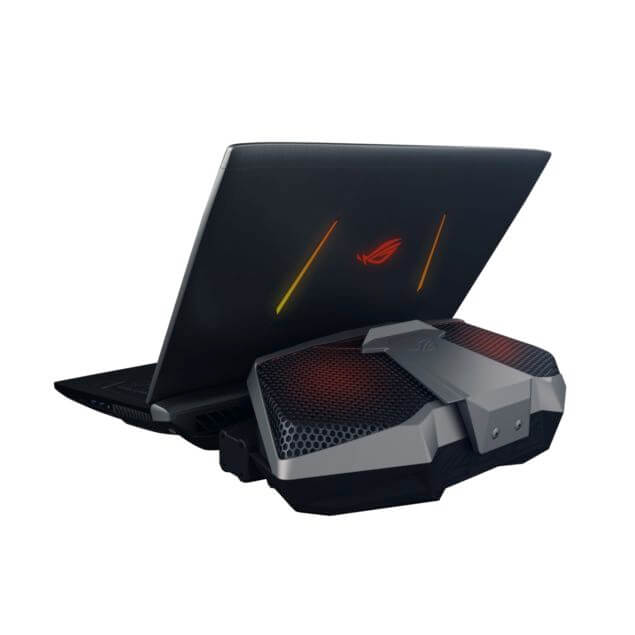 ASUS ROG GX800 Sports A Dual-GPU Setup And A Mechanical Gaming Keyboard, Making It The Fastest Gaming Laptop In The World
Unveiling powerful gaming laptops is definitely a Computex thing, and with ASUS ROG GX800, you will finally be able to bring desktop level performance to gaming notebooks, but that will require some serious cash. ASUS ROG GX800 continues the trend of providing the gaming populace with a liquid-cooled laptop.
However, where ROG GX700 lacked, GX800 has thoroughly improved. According to Engadget, the gaming laptop features a dual-GPU solution, and an unlocked Intel processor. While we have no clue on which processor models are present inside these gaming machines, our gut tells us that an Intel Core i7-6820K is going to be part of the configuration, along with a GeForce GTX 980 GPU in an SLI configuration. The gaming notebook still features the detachable liquid-cooling solution and is able to provide a ton of frame increase if you decide to take it to your advantage.
One of the things that we really appreciated from ASUS was placing a mechanical keyboard setup on the company's world's fastest gaming laptop. We reckon that if you're going to invest a fortune on a mobile gaming machine such as thing, membrane keys will obviously not be able to withstand a flurry of taps the same way mechanical keys can, so it is a very good approach from the company. Additionally, these mechanical keys feature multicolor LED keys which can be tweaked at your command.
ASUS has not unveiling any pricing or availability details regarding the ROG GX800, but if the Taiwanese tech firm claims that it is the world's fastest gaming laptop, then what more can we do right now than to take the company's word for it? The SLI configuration will naturally make it more expensive than the single GPU that was present in GX700, but to give you an idea of the sort of hardware to expect from GX800, the details of GX700 have been listed below:
Hardware Specifications Of ASUS ROG GX700
Processor: I ntel Core i7-6820HK
Operating System: Windows 10 Home, Windows 10 Pro
Chipset: Intel CM236 Express Chipset
Memory: DDR4 2800(O.C.)/2400 MHz SDRAM, up to 64 G
Display: 17.3-inch 16:9 Full HD (1920×1080)/IPS UHD (3840 x 2160) anti-glare
Graphics: NVIDIA GeForce GTX 980 with 8GB GDDR5 VRAM
Storage: RAID0 Support, PCIE x 4 256G / 512G
Card Reader: 2-in-1 card reader (SD/MMC)
Camera: HD Web Camera
Networking: Integrated 802.11ac
 Interface:

1 x Microphone-in jack
1 x Headphone-out jack
2 x USB 3.1 TYPE C port(s)
3 x USB 3.0 port(s)
1 x RJ45 LAN Jack for LAN insert
1 x HDMI
1 x mini Display Port
1 x Thunderbolt port
1 x SD card reader
1X AC adapter plug

Audio: ASUS Sonic Studio
Battery: 6 Cells 93 W/Hr Power Adapter
Output: 19 V DC, 9.5 A, 180 W, 19.5 V DC, 16.9 A, 330 W
Input: 100 -240 V AC, 50/60 Hz universal
Dimensions: 429 x 309 x 33 ~35 mm (W x D x H)
Dock: (Thermal Dock) 417 x 368 x 114 mm (W x D x H)
Weight: 3.9kg
Dock: (Thermal Dock) 4.6kg
As sourced from wccftech

A gamer by passion and a lover of machines. Has an obsession for the distant future we can finally have unlimited bandwidth.