Advanced Micro devices (NASDAQ: AMD) closed today at $3.99, which is 52% higher than yesterday's closing. This is the highest the stock price has gained since the time it was initially listed on the NASDAQ Stock Index.
The Stock price rise was fueled by the Q1 2016 financial report which beat expectations in both the results and the positive Q2 outlook of the  company. AMD was the most active stock on the NYSE and the biggest gainer, with volumes topping 140 million, over 10 times higher than the 50 day average of 12 million.
The company announced a joint venture to develop and sell Enterprise-class x86 processors for the Chinese market, a deal which is being described as the most significant challenge to Intel in the server space. This agreement is expected to net AMD a sum total of $293 million in revenue, with additional royalty.
The company also announced three additional semi-custom wins with an estimated lifetime revenue of 1.5 billion USD. These wins are expected to be design wins for the PlayStation 4K, an updated Xbox One and the Nintendo NX.
---
AMD's Zen and Polaris on track for Q4 and Q2 2016 respectively
This year will be the very first time that the market is going to see the launch of truly next generation graphics chips since the introduction of AMD's GCN and Nvidia's Kepler GPUs back in 2012. This has been by far the longest period of time spent at the same process node that we've witnessed in the GPU space. Process nodes dictate the progression of what has become known as Moore's law, which states that integrated circuits of the same size should double in complexity – number of transistors – every couple of years. However, we haven't seen any change since 28nm hit a full 4 years ago, however, it is expected to change this year.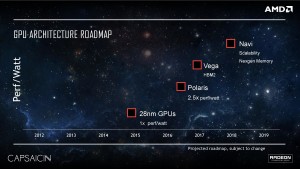 AMD is expected to introduce its latest GPU architecture, codenamed Polaris in 2016. Polaris will see a newly updated Graphics Core Next. The architecture is built on GloFo's 14nm FinFET process, called the 14nm LPP. Introduced by Intel in 2015, this groundbreaking technology allows for improved speeds while reducing power consumption. Polaris is touted to be a highly modular design, capable of being scaled to devices as small as smartphones, to the largest server farms.
While Polaris is AMD's biggest change in their GPU design philosophy, Zen is, without doubt, one of the most important products for AMD this year as it marks the company's re-entry to the high-end desktop CPU segment with a brand new, clean slate,  microarchitecture after roughly half a decade of near-complete absence and the underwhelming Bulldozer architecture. Zen's design began in 2012 and was led by prolific CPU architect Jim Keller, the same man who was responsible for designing the most successful products in the company's history, the Athlon XP and Athlon 64 processors.
Zen is expected to feature AMD's most significant performance leap in several years, and is on track to launch in Q4 2016. It is expected to support DDR4 memory, and will fit on the new AM4 socket, which is expected to replace the existing socket lineups with a common socket.
I started gaming with Minesweeper on my dad's office computer that ran Windows 95 and have been hooked since. I've spent many hours on classics like Wolfenstein 3D and today, I spend several more on games like Deus Ex, Darksiders, Just Cause and keep a special place in my heart for BioShock and Metro 2033. I may have a background in computer science, but I aspire to write and direct a film adaptation of S.T.A.L.K.E.R.: Shadow of Chernobyl and Call of Pripyat one day. I love cats, cooking and light, soothing music. Huge Godzilla fan.